I am just so glad to try making puto (steamed rice cake) for the first time and be successful with it. I am very fond of eating puto partnered with dinuguan (pork blood stew) or pansit bihon. But most of the time, I don't like the taste of the puto that I buy. They have this "maanta" taste that I thought, why not make my own!
I discovered White King Puto mix which costs only P25-35 a box and I saw on the box that I will only need water with the mix. I thought, there's really nothing that much to lose so I tried making puto at home.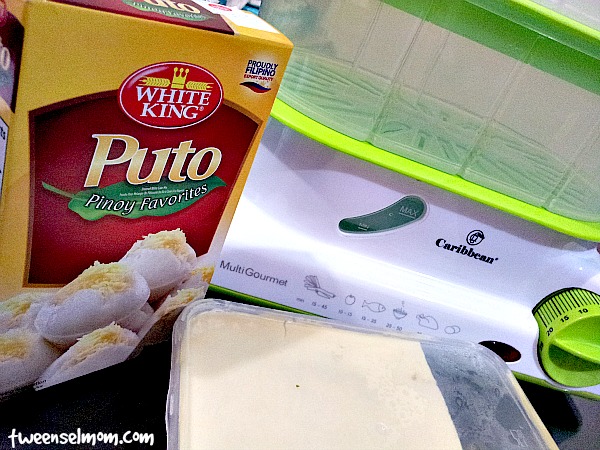 Here are the ingredients and the so simple way of making your own puto at home:
Ingredients
1 200 g pack of White King Classic Puto Mix
1/2 cup water
1/8 cup sugar
1/8 cup cooking oil
cheese, cut into strips
butter for greasing your puto molder
Instructions
Grease your puto molders with butter. ( I didn't have a stock of butter last time so what I did is I just brushed cooking oil on my molders)
Dissolve White King Classic Puto Mix in water. Blend well and then add sugar and oil gradually.
Pour puto mix up to 1/2 of molder.
Put cheese strips over the top of each puto mix.
Arrange puto molders in steamer and then steam from 25-30 minutes.
Brush butter on the top before serving (Only if you have butter. It tastes good already even without butter.)
http://tweenselmom.com/2015/11/18/grocery-find-white-king-puto-mix/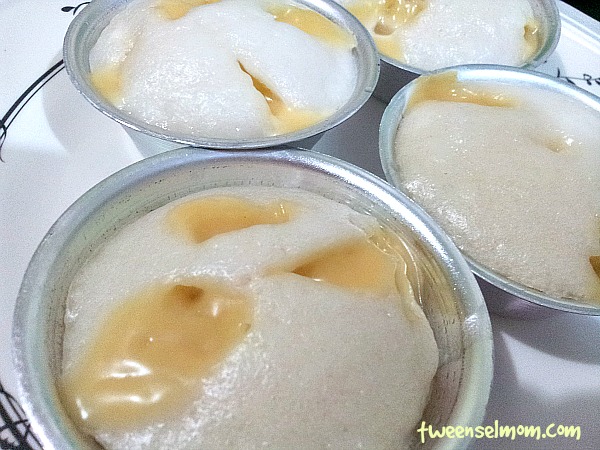 You know what, my kids love my puto. They aren't fond of kakanin but I am so happy they told me to make some more. Don't you love it when your family really likes what you cook, diba? I'm planning to make more this coming Christmas because my mother in law cooks delicious dinuguan. I am very sure my puto will be a hit with that dish.
Hope you enjoyed this post! Have a great day!