If you haven't experienced attending a hot air balloon fiesta, make sure you mark this on your calendar and get your tickets early on!
The 20th Philippine International Hot Air Balloon Fiesta is happening on February 11-14, 2016 in Clark, Pampanga!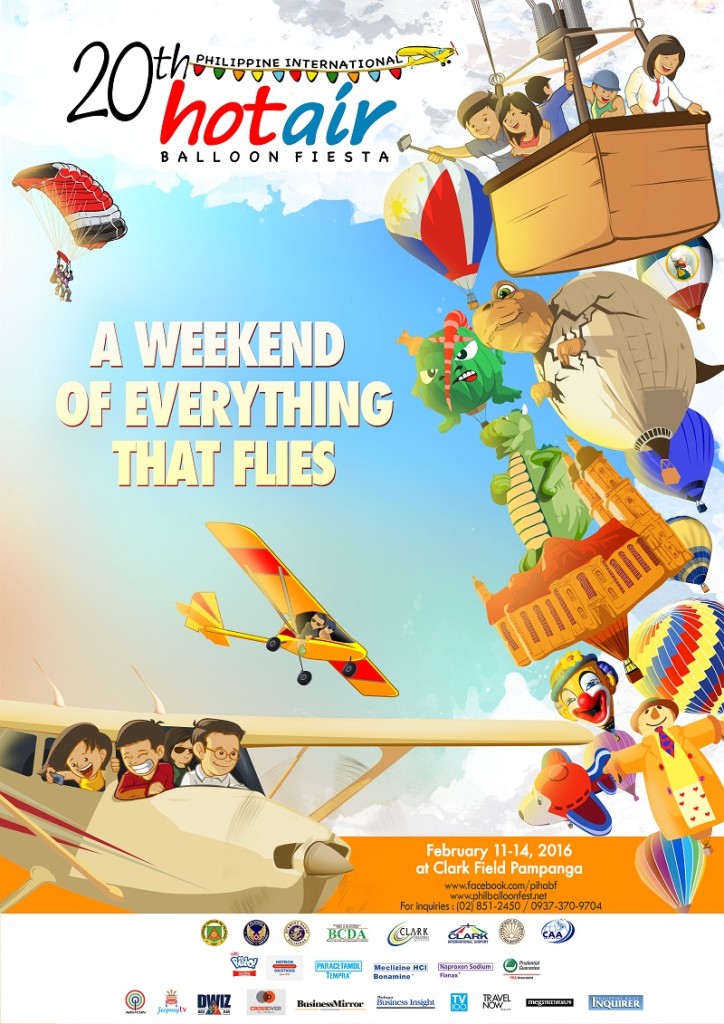 During this four-day fiesta, there will be exhibitions of different aviation disciplines, including aerobatics, skydiving, paragliding, remote control aircraft, and kite flying. Hot air balloons from the Philippines and other countries will fly high in the early morning, and illuminate the evenings.
More than just a spectator event, the Philippine International Hot Air Balloon Fiesta is a gathering of aviators from the Philippines and the world.
What began as a passion project has now evolved into the longest-running sports aviation event in Asia. The fiesta's longtime objective is to instill discipline in participating young pilots so they can develop into safe aviators, as well as to impart a spirit volunteerism to the whole community.
The fiesta is an opportunity to share and exchange cultures and traditions with visiting pilots from all over the world. They are given a taste of Filipino hospitality and the fiesta spirit. We hope that their beautiful experience becomes the best advertising for Philippine tourism. We also encourage the visiting pilots to be contributors to chosen beneficiaries of the foundation.
By creating aviation awareness, educating the young about flying machines and encouraging people to work from the heart and do things with passion, we will strive to bring back the Philippine aviation industry's good standing in the international community.
Get your tickets now!
Watch the aerobatic exhibitions, experience a hot air balloon ride, skydive, ride a plane, or paraglide! Visit the online ticketing portal to reserve your tickets.
General Admission PhP 350
VIP Passes PhP 6,000
Hot Air Balloon Rides US$ 350
Tandem Skydiving US$ 400
Airplane Discovery Flights US$ 120
Tandem Paragliding US$ 150
General Admission tickets are at PhP 350 per person, good for 1 day. Get your tckets at our offices at the Air Ads Hangar, Andrews Avenue, Pasay City, or through the online ticketing portal. Tickets will also be available at the Fiesta entrance. Gates and ticketing counters open at 5AM daily.
You can also purchase VIP tickets to get the following perks!
Priority Entrance
Complimentary use of the Balloon Launch Patio
Air-Conditioned Lounge
Breakfast buffet
Lunch buffet
Afternoon high tea
Complimentary snacks & beverages
VIP tickets must be purchased in advance from our offices at the the Air Ads Hangar, or through the online ticketing portal.
Get updates on schedules and activities in store by liking the official Facebook Page and visiting www.philballoonfest.net.