Are you fond of eating in Bonchon? We are! And so I found this recipe which as far as the accuracy of my taste proves to me, makes my fried chicken taste like Soy Garlic chicken from the famous restaurant. Of course, Bonchon's Soy Garlic will remain one of our favorite chicken joints but when at home, I love to serve my own version. To be honest, I found this recipe from Yummy, but I tweaked it a little bit so that the ingredients that I have at home will fit.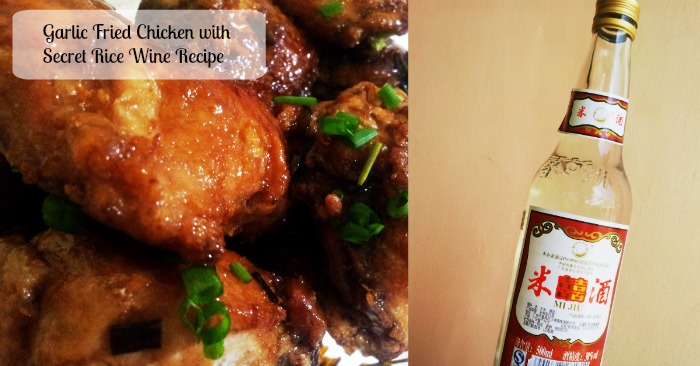 My Fried Chicken Ala Bonchon Style And The Secret Rice Wine
Ingredients
1/2 kilo chicken drum sticks
1 medium egg, beaten
1 tablespoon soy sauce
1/2 cup cornstarch
oil for deep-frying
For the sauce
1/2 tablespoon cooking oil
1/4 cup garlic, minced
2 tablespoons soy sauce
1/4 cup brown sugar
3 tablespoons vinegar
*3 tablespoons Chinese wine
2 tablespoons chicken stock / water can be used
salt and pepper, to taste
1/2 cup green onions
Instructions
Bring raw chicken to a boil with 1-1/2 cup water until it dries up, oil comes out and you are sure that the chicken are cooked inside.
Mix together cooked chicken, beaten egg, soy sauce, and cornstarch.
Deep-fry in preheated oil until crisp. Drain on paper towels.
Make the sauce: In a saucepan, heat oil and sauté garlic until fragrant. Add remaining ingredients. Bring mixture to a boil and cook until it thickens.
Right before serving, toss fried chicken in sauce. Sprinkle green onions on top. Serve immediately.
http://tweenselmom.com/2016/02/27/my-fried-chicken-ala-bonchon-style-and-the-secret-rice-wine/
*The secret Chinese rice wine I used was MiJiu which I bought from SM Grocery for at least P80 per bottle. It smells lightly of gin tonic and when you make your sauce and taste it uncooked, you'll taste the wine a little bit. But it will make the difference in the taste as little as you use it from the recipe.
I am not that an expert cook and it makes me happy when I get to use and explore new spices and ingredients when I cook at home. Try cooking this recipe and your family will surely love it!
Happy cooking!