Because I am a work at home mom, it's inevitable for me to want to dine out most of the time. It's a welcome break for me from doing household chores, cooking and washing dishes. My husband and I also take advantage of eating out with the kids to get closer to them, talk to them about their interests while we are all in good mood and enjoying good food.
And so we are all glad that numerous food parks are sprawling our subdivision's vicinity. One of these is El Neo Garahe Food Park.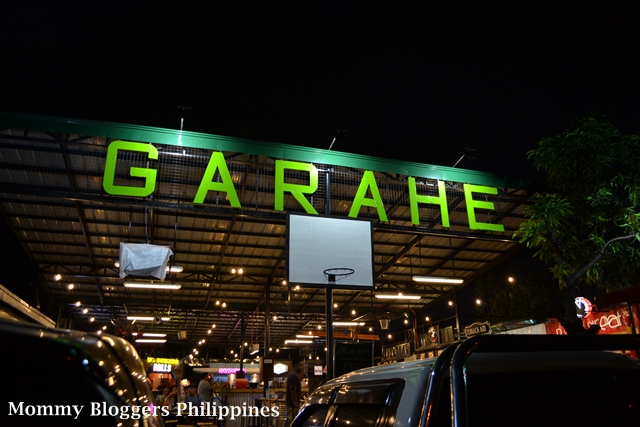 We were at El Neo for the first time just this March and it was still on its dry run. Not all the food stalls were open that night but there was already a considerable number of patrons. Aside from the kids, we also brought along my mother and father in law.
Parking
We were there as early as 7AM but the parking area in front of the park was fully occupied. Luckily we got a slot nearby. There was a parking attendant (if I am not mistaken that he was being paid by El Neo). It was a good thing the food park had an attendant since it was already dark and my father in law who is a senior citizen would find it difficult to park in a dim area without assistance.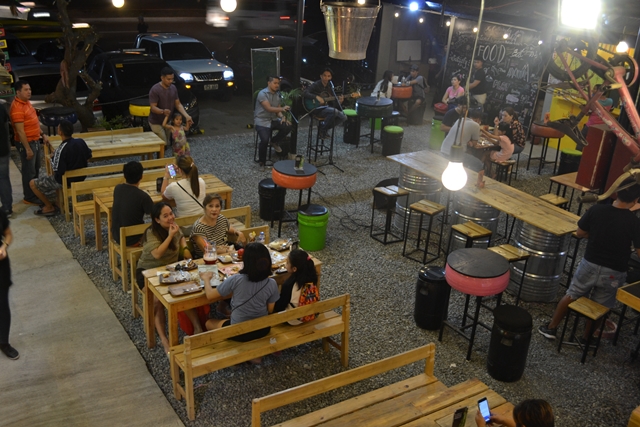 Ambiance
El Neo Garahe Food Park has a backdoor-in-the-garage theme and so you will see wooden tables and chairs, hanging metal pails and bikes. The floor is partly made of regular cement while in the center area were big stones and pebbles. The lighting is generally cozy with the use of warm, yellow incandescent light bulbs. The ceiling is high and night breeze freely flows inside the park. However, that night was pretty dry and windless and so the big electric fan located near the roof was the main source of breeze.
There were stores which offer al-fresco dining on 2nd floor.  We've never tried eating over a rooftop so it will be cool to try it next time we visit.
Food
After roaming around the park, we've tried the food from The Braw Barn and Feliz Coffee and Sweets.  The Braw Barn's bestsellers are ribs, wings and burgers while Feliz' are crepes, frappes, milkshakes and churros.
The Braw Barn ribs we were able to try that night was tender and juicy, and the meat easily fell off from the bones. The size was regular and for a hungry person, I think it can fully satisfy one to two persons. The chicken wings were tasty and crispy. The spicy flavored ones were a bit much for my kids but the adults liked them.  For the sliders, the patties were very thick and beef used were of good quality. From what we've observed that night, most park goers went for the ribs and sliders from The Braw Barn.
Feliz Coffee and Sweets desserts were all beautiful in photo but they got all prettier when we ate them. The strawberry milkshake was my favorite because it reminded me of the scramble I used to buy during my elementary days. The churros and the chocolate frappe were heavenly. Of course, smores, who doesn't like smores? Soft marshmallows, toasted graham crackers and gooey chocolate. Yum, just yum.
There are a lot more food stalls which we like to try when we come back such as The Volcanic Plate for the sizzling plates and tapas, Wang for Japanese and Chinese food and Pizza Streat for their brick oven pizzas.
Music
There were two performers that night (singer and guitarist) who played a couple of songs. I think they could do better but for that night, it was ok. My family loves music and I think many other people do so it will be additional points for this food park if the band will be able to play songs which the patrons can sing to or just listen to while they eat or relax.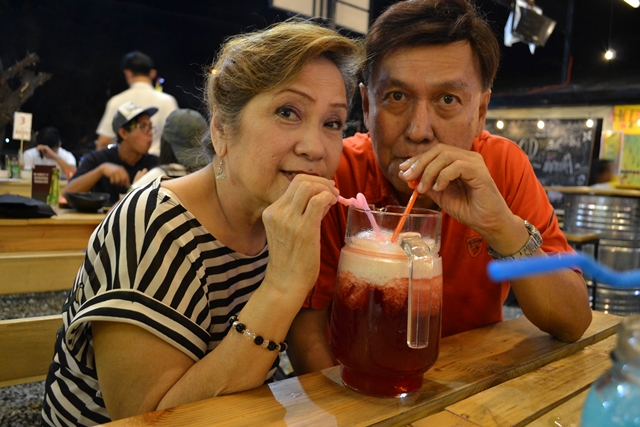 Verdict
In general, El Neo Garahe Food Park is a cozy place to hang out with friends and families. The lighting, the mood and the music give that relaxing feeling perfect for an after-office or after-school barkada gatherings. They serve light beers (I'm not sure of hard drinks) and coffee too so you can choose to go here with business partners or life partners for a late night siesta. Food is good, priced moderately and varied (Filipino, Japanese/Chinese, BBQ, Shawarma, Steaks etcetera) I have yet to discover if any of their stores can serve a big family quickly (like a group of 10 to 12 hungry people) but maybe they can if informed in advance.
I hope you enjoyed my review! If you want to see more photos and feedback about this food park, go to Mommy Bloggers Philippines review.
See you one of these days at El Neo Garahe Food Park!
Follow @elneogarahefoodpark, @thebrawbarn, @felizcoffeeandsweets on Facebook and Instagram.
Find them at:
Block 176, Lot 22 Phase 7, Geneva St. Fairview, Quezon City
Opening/Closing Hours : 4PM-12AM
Parking Area : in front and side area of Garahe Food Park