Filipinos love flavorful dishes. That's why when we cook, we always  make sure that we use varied types of spices and when we eat, we have all sorts of condiments. But sometimes, due to some health reasons or budget constraints, we like to cook without meat. Good thing is that it's not impossible to do with Ajinomoto PorkSavor seasoning mix. You see, adding salt or fishsauce (patis) won't be enough if you want to achieve flavorful dishes. I've tried that before. Although our ulam has this taste, it only tasted salty. It lacks that savory taste we usually find when we eat outside. Ajinomoto PorkSavor is the answer to that.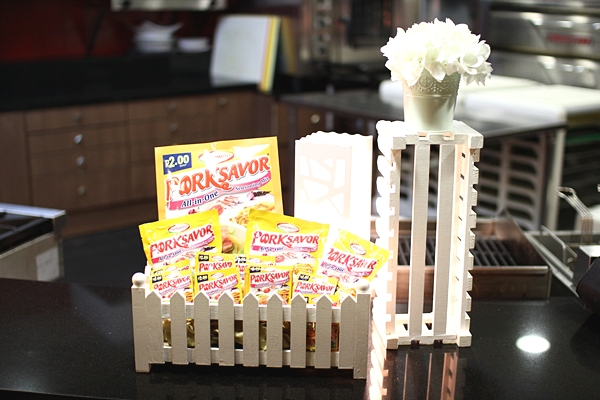 Ajinomoto invited me to attend its PorkSavor All-In-One media launch with a live cooking demonstration in CCA Manila. I truly enjoyed this activity as we watched Ms. Nancy Reyes-Lumen, the famous "Adobo Queen", showed us how to cook meatless dishes. What she did was great because the recipes were for simple but most often served dishes. Feel free to download and use the recipes shared by Ajinomoto.
Meatless Dishes Recipes
Meatless Pancit
Veggie Soup
Simple Pastel
Ms. Lumen also shared valuable tips in cooking and I made sure to take note of them as it was my first time to hear them. Here are some of those tips:
1. When you cook pancit, a quick tip to avoid spoilage is to put a space in the center of the pan where you are cooking it. This will allow the dish to "breathe" and prevent spoilage. You can even apply this in salads.
2. When you are cooking dishes with multiple ingredients, if possible, cook the ingredients separate from the others. This way, you retain the flavors of each ingredient when you cook. And then you can just mix all these ingredients together.
3. Maggi PorkSavor can be used to remove the fishy smell of fishes.
4. If you will be cooking with tomatoes, remove the seeds first because the seeds do not contribute a lot in the dish.
Mommy Bambi and Enrique Gil As Ambassadors
Another exciting part of the launch was the introduction of the new brand ambassadors who were Mommy Bambi and his son, the handsome actor, Enrique Gil. My daughter who was with me during the event told me that she felt that time had stopped when she saw Enrique. In fairness, I felt kilig myself when I saw the actor. He looked so cute.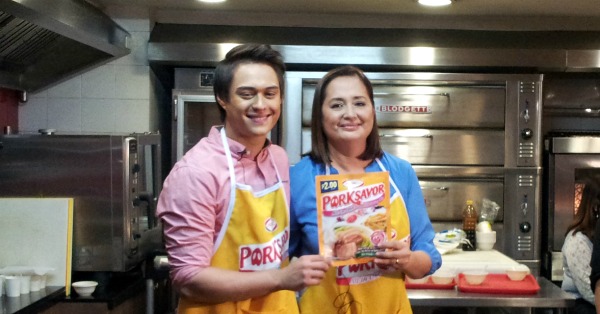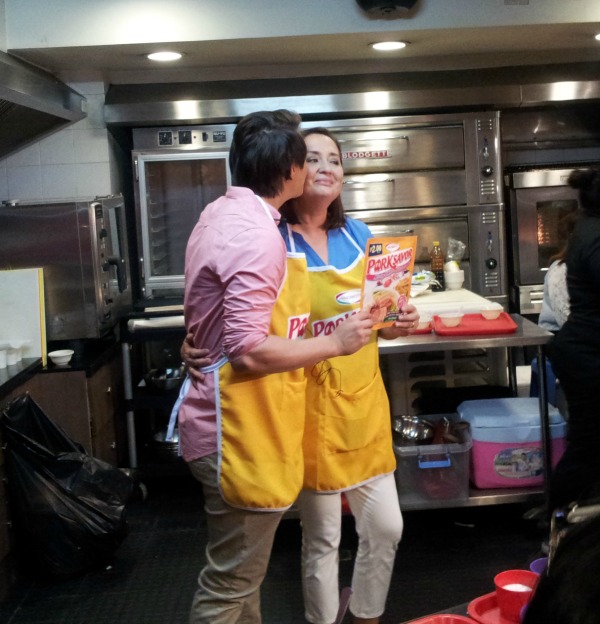 Enrique and his mom was perfect to serve as role models for Ajinomoto Pork Savor because Mommy Bambi really cooks, as she told the audience, for her family and Enrique and his 2 siblings. Enrique, on the other hand, showed how he loved his mom and her dishes. I love their tandem because they showed us that a mother can show support and love to her children no matter how busy they both are. With Pork Savor, it's easy and quick to cook tasty dishes. For busy moms and busy kids, easy to prepare and guiltless dishes will mean more time to spend in the table to eat together.