Making pizza at home has never been easier for me since I discovered Arla Mozzarella cheese. Last pizza I was able to taste was the Steveston Pizza at UPTC but after that, we did not have the chance to go out and dine in in a pizza parlor due to schedule and budget constraints.
Arla recently sent me a sample of the different products they have and when I saw the mozzarella cheese, I immediately thought it's time for  us to give in to our pizza craving.
There was no time to go out for grocery so I had to make do with what I have in the fridge. Fortunately, I have a stock of hotdogs and bacon, and green bell peppers! And God bless me, I also have a tiny packet of pizza sauce. I have everything I need! I used my Simple Touch Fryer which can also be used to bake.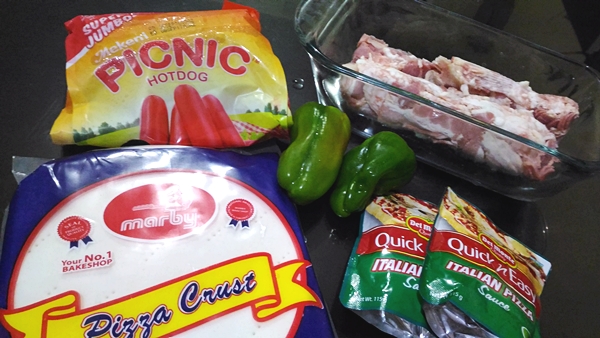 The dough I used was not the thin and crispy type but it was just perfectly soft and crunchy to the bite. I was thinking that I can make my own pizzas in different flavors and pack them in a foil for short travels.
Some pizza combinations which will be easy to make are:
1. Ground beef and mushroom
2. Pepperoni
3. Three-cheese by using other types of Arla cheese
4. Pineapple and ham
10-Minute Pizza With Arla Mozzarella
Ingredients
1 medium sized pizza dough
2 pcs jumbo hotdog, sliced
5 slices of bacon
2 green bell peppers
1 small packet of pizza sauce
2-3 slices of Arla Mozzarella
Instructions
Preheat your oven to 230C
Fry hotdogs
Crispy fry bacon
Slice green bell peppers to desired size
Smother pizza sauce over your pizza dough
Toss bacon, hotdog and green bell peppers
Cut mozzarella cheese into thick strips
Put the mozzarella strips over the pizza
Bake for 6-8 minutes
Enjoy your pizza while warm
http://tweenselmom.com/2016/10/26/10-minute-hotdog-and-bacon-pizza-with-arla-mozzarella/