Joining the Daloy Dunong Plant Tour by Maynilad was quite an eye-opener for me. If I will be asked, I think every customer of Maynilad should be able to request a tour like the one we had, not only to appreciate Maynilad's service but also to increase awareness on how we can all help protect our water supply and resources. Let me tell you a quick recap of how our Daloy Dunong Tour went on and I hope that at the end of the post, you'll also have the same realizations I had.
Veterans Village Water Reclamation Facility
Before going to Maynilad's plant, we headed out to eat an early lunch at 13 Ubay Street restaurant in Banawe, QC. There, we met Ms. Karmina Alejandro, Head of Social Media/Corporate Communications of Maynilad, and while we eat, she gave us an idea of what we will be seeing inside Maynilad's Water Reclamation Facility in Veterans Village, QC. There were only four of us moms there, with our kids. It was quite a small group but Ms. Mina told us that they opted for this so that we can easily focus, understand and ask questions during the tour. She also said that they have also started going to some schools to increase awareness of Maynilad's wastewater services.
It took us only less than an hour before we reached the plant. Before we were able to enter the main office to the seminar room, they briefed us of security measures inside the plant. Since this is a water reclamation facility, one where they bring contents of septic tanks from residential areas, I thought we'd smell something awful. There was none of it and the whole plant itself, I noticed when we were on the tour, was actually very clean and well maintained.
Brief Seminar
Engr. Ryan Orillo (Head of Septage Management)  gave us a very informative briefing about Maynilad, its services and their facilities. As a speaker, Sir Ryan was very enthusiastic, knowledgeable and proud of the company. To summarize the important facts that we have learned, here's a bullet list of interesting facts we should know about Maynilad.
80% of the water we use of drinking, bathing, cooking and other activities at home ends up in seas, rivers and lakes.
The water we used is called wastewater and if we just leave them flowing directly to the bodies of water, wastewater can cause diseases and pollute our environment.
There is a law called 2004 Clean Water Act of the Philippines that there should be proper collection, treatment and release of wastewater to lessen the effects to the environment.
Each households are required to have their own septic tanks or to be connected to a sewer network. A septic tank or "posonegro" is where our solid wastes like our poops and some food particles are stored, while the liquid waste goes to drainages and canals. Septic tanks should be cleaned every 5-7 years. The solid waste formed inside is what we call "sludge".
Maynilad provides us clean water which we use at home for our basic needs such as bathing, cooking, etcetera, but they also provide wastewater management services for the West Zone of the Greater Manila.
Maynilad provides 2 types of wastewater management services: Sewerage services where some of Maynilad's customers are connected to a sewerage system where their wastewater is being treated by Maynilad's facilities before they are discharged to bodies of waters. Sanitation services wherein the customers who are not connected to sewer lines are provided septic tank cleaning services every five to seven years. Maynilad provides vacuum trucks which collect wastes from septic tanks and bring them over to their Septage Treatment Plants for cleaning before discharging to bodies of water.
Maynilad Plant Tour
Part of the educational tour is seeing the actual spots where wastewater is being treated. Maynilad's facility has high-end machines and they are well maintained, clean, and noise-free. Despite the machines running 24-hours a day, they don't interrupt the people living in the neighborhood because the plant doesn't emit foul smell or irritating noise. The Veterans Village facility is managed by a small number of people and yet the plant works efficiently.
How We Can Help
According to a study done by University of the Philippines, Maynilad customers use at least 35 gallons of water per person per day. Imagine how much waste we produce in a month and how much will that go to the bodies of water (seas, lakes) if they go all the way there without treatment?
If our waste water won't be treated, the dirt will leak into the groundwater which is what some people use for household activities including cooking and drinking. Ingesting contaminated water or having unhygienic water around us will mean disasters such as : health problems (diarrhea, skin problems, hepatitis A, leptospirosis ), many plants, animals specially fishes and water creatures will perish which will lead to scarcity of food supply.
As we can see, Maynilad is doing their part of treating wastewater as part of the law and their concern to their customers and their environment. That's why they continuously build facilities in places where they are allowed to build. Maynilad is working hard to achieve a goal of reaching out and providing wastewater management services to 100% of their West Zone area customers.  They also organize campaigns and tours like this to educate people. But preserving the cleanliness of our water sources is not a one-way street, if you will let me use that term. The customers also play a huge part for this effort to be successful and for Maynilad to be able to do their jobs more efficiently.
Here are some of the best ways we can do our part to help Maynilad:
A. If you are a Maynilad customer, check if your septic tank has already been cleaned within the last 5 years. If not, avail Maynilad's offer for septic tank cleaning. Don't wait until it's too late and your posonegro is already reeking or overflowing. It will only take 15 to 20 minutes for Maynilad to have the septic tank cleaned if everything is prepared.
How to request for Maynilad's Septic Tank Cleaning Services?
You can coordinate with the barangay hall or call Maynilad Hotline 1626.
You can also send requests to Maynilad's social media pages:
MayniladWater Facebook Page
Maynilad Twitter Page
B. Do our part in segregating our solid wastes and try our best to recycle as much as possible. Don't flush solid materials in our toilet or in all public toilets.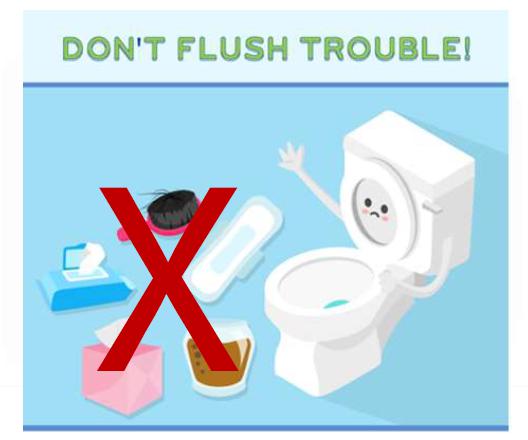 "Ang tubig ay buhay." So as much as we want to teach the future generation on how to do this and that, as adults, we should also walk the talk. Let's support Maynilad not only because we are their end users but because we also owe it to Mother Earth.
I hope this blog post helped at least a bit in enlightening you about Maynilad's services as we found out from the tour. For any reactions or questions about this post, feel free to comment below.