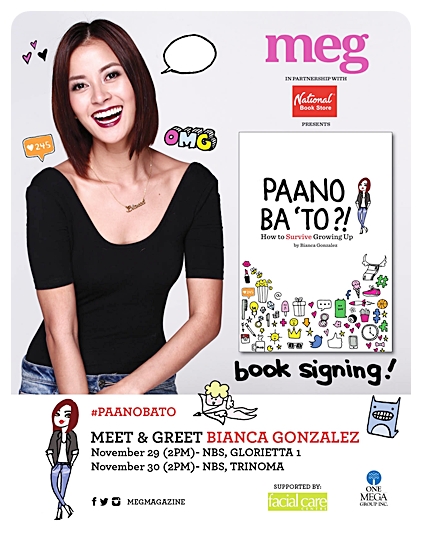 It was our first invite for a book launch and I was glad that it became an exciting and fruitful one not only for me but especially for my daughters.  Last November 30, Bianca Gonzales visited National Book Store inside Trinoma to introduce and sign copies of her book entitled Paano Ba'To?!. How To Survive Growing Up. Bianca was super early and she was already signing books when we came to the venue. Mind you, the call time was 2:00pm but when we came there by 2:05, she had already signed many of the books.
I admit I underestimated Bianca because I really don't know her at first. I just see her on TV and remember her as the host of Pinoy Big Brother ( a teen reality show). I never thought that a lady as young as her is already the editor of Meg Magazine, a teen's magazine I am fond of reading. The lady apparently has also an immaculate record when it comes to being a celebrity. When I saw her at  NBS, I see a very pretty woman, very stylish, and serious into what she was doing. She was signing each book with messages and I thought it was so sweet for her to include all three of us in her autograph.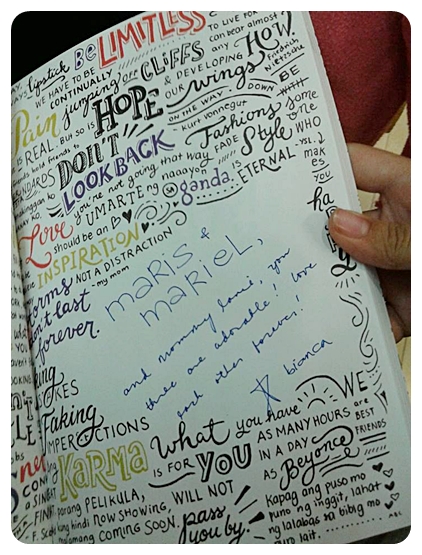 After the event, my eldest immediately engrossed herself into the book and I think she loved it. I loved it too! I even felt or wish that sana this book was with me during my teenage years. I remember my younger years when I don't have anyone to talk to and have so many questions within me which I wasn't able to ask. This book talks to the readers like a normal teenager friend to another, an older sister to a younger sister, a mom to her daughter. I am only halfway through the book but I am eager to finish it since I get a lot of tips or points of discussions for my daughters.
It was also wonderful that sometimes my daughter shares with me what she learned from it and she felt happy doing that. Her favorite topics are those which deal with her sister (who is her frienemy), the fashion tips, topics about friends and schooling. Sometimes she brings the book to her school and she tells me back that her classmates are already asking her how much it is and where she got the book. Her friends and classmates are fond of reading about, you know, crushes and relationships. My daughter is kind of young for those topics but this book introduces them with wisdom, emphasizing correct priorities, love to parents and self-respect. Aren't these the kind of values you want to teach your daughters too?
If you haven't grab a copy of Bianca Gonzales' book, I suggest that you don't miss it. It's a recommendable teen survival guide for Filipino teens because they actually happen, based on our culture and normal happenings in our Filipino society. There are other teen books out there but I am certain that this will be the most fun, relatable and easy to understand book for your kids.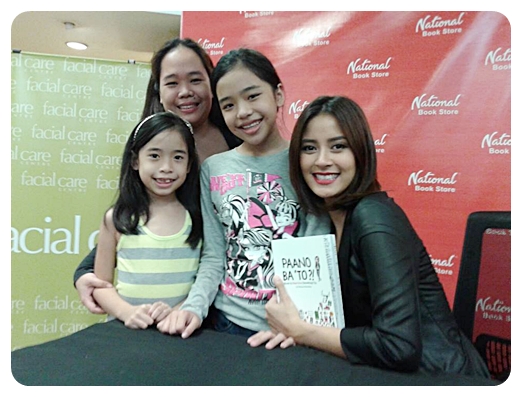 You can grab the book from National Book Store. Follow Meg Magazine too in Facebook too and see more about the book and Bianca Gonzalez.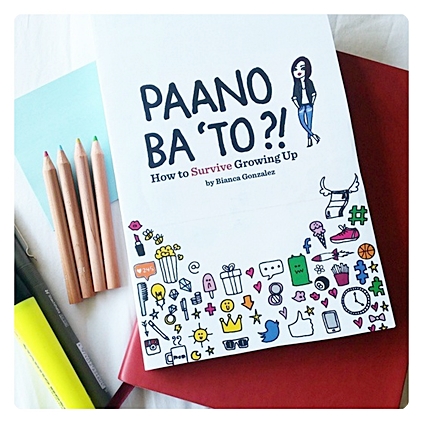 *I wasn't paid with anything for this review. Just too happy to share it with you. If you happen to have one, share it with me. Will be happy to make chika about it!