This year's Disney On Ice – Dare To Dream is a dream come true for me. I've always been a fan of Disney Princesses and I've always wished to see all of them skating. Rapunzel is my favorite princess too and whenever my daughters want to watch Tangled, I always willingly watch with them at home.
Yesterday, Christmas Day, my husband indulged us to go to Disney On Ice at Smart Araneta Coliseum in Cubao despite the never-ending traffic. After a quick visit to my father's house, we went to Cubao without having lunch. That was because we woke up late after being with my in-laws for Christmas eve. We arrived in Cubao by 4:00PM and got our tickets by 4:30. We got the Upper Box  Premium Tickets worth P600 each and we were fortunate that there were not so many people in the ticket line. I guess the online ticketing order really works these days.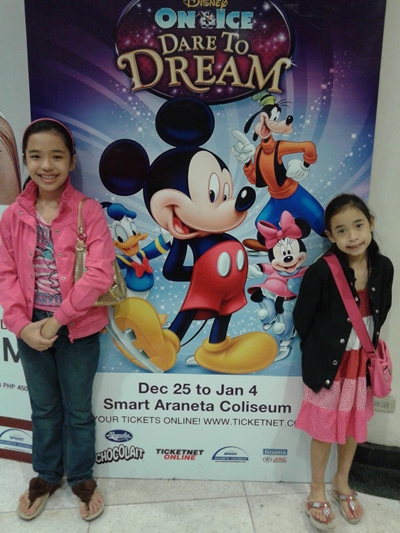 Since we didn't have lunch, we got several snacks and dug in before the program. We had Popcorn (P75.00/regular size), Sweetcorn (P50 per cup), Hotdog (P60.00 with bun), and Shakey's Buffalo Wings with Rice which costs P99.00 per 2pc-pack, Iced Tea (P60 large size), Mineral Bottled Water (P20 per small bottle).  No food allowed during the show so you really have to buy there. Water is allowed I think and I suggest you bring your container since when you buy water, you need to give the bottle cover back. They said they don't allow bottle caps because some kids can throw them anywhere, and it will be dangerous for those caps to be thrown on the ice. The skaters will be injured. (I remember Blades of Glory when Jimmy MacElroy got injured when bead pearls where thrown into the ice by their competitor ).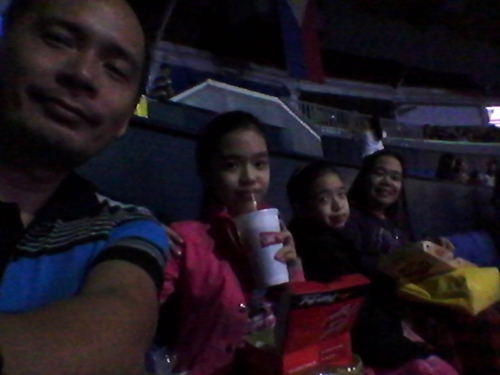 Upperbox Ticket
Getting the Upperbox ticket is quite worth it. Much more expensive than the General Admission tickets worth P150 where you have to sit on hard and cold cement seats. Upperbox tickets are reserved and the seats are foamed, plus of course you have nearer view from the stage. But with this range, I still can't see the faces of the characters. I don't know if my eyes are just defective. Still, we enjoyed the view, having a much wider perspective I think as compared as when you are really way below there. But of course, who wouldn't love to go on VIP!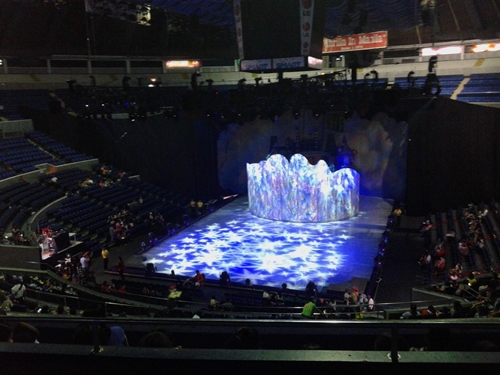 After a quick pre-show magic tricks on stage, the main show started exactly 5PM with a National Anthem. And then all the lights turned-off. I can still imagine the colors all focused on the stage as the skaters, and Mickey and Minnie started going out.
The Princesses
Princess Tiana of The Princess and the Frog
The highlight of their segment is the group dance on the bar. Their costumes were avantIf you have watched The Princess and the Frog, this animated film is filled with music and dance as Tiana dreams on having her own restaurant but found her true love Prince Naveen at the same time. She kissed the Frog Prince and then turned out to be a frog herself.
Snow White
You will enjoy seeing the 7 Dwarves (who are bigger than Snow White in the ice ) 🙂 and their funny antics. Snow White's costume is very pretty and her prince looks very dashing and handsome.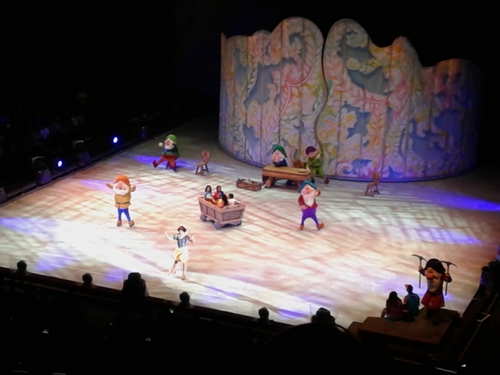 Cinderella
Who doesn't love Cinderella! They showed the original story with the stepmother and ugly step sisters. What we loved the most is her arrival on the Prince Party, the Sparkling Chariot and the majestic horses!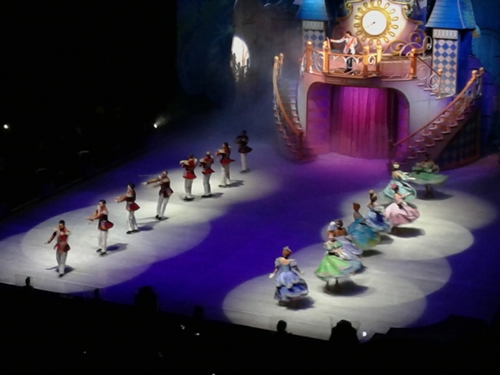 Rapunzel
And of course, our favorite. First time to see Rapunzel in skates. Flynn Rider is handsome  ( I think ) and who else, our favorite horse, Maximus. We wonder how they pulled the trick but the steed was as realistic as it gets. I can't imagine how a horse can skate on ice but Maximus did, elegantly!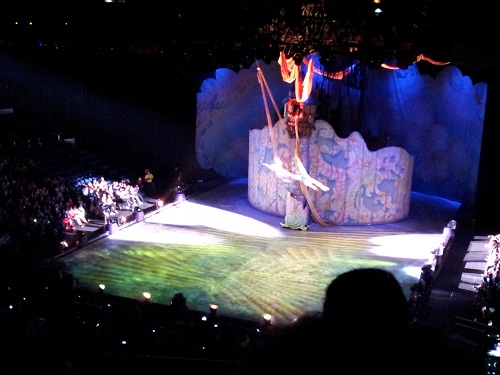 My personal favorite ( the same as in the movie ) are the floating lanterns. I was wondering how they will pull this off but there were floating lanterns up above! I wished for the boat scene in the movie but nevertheless, their flying scenes very much complemented for it. You should definitely see this part!
Ending Part
Disney on Ice 2014 is a fantastic show literally from beginning to end. At the end of the show, all our favorite princesses with their princes attended Rapunzel's coronation. Name it and they were there (except Elsa and Ana) – Cinderella, Snow White, Tiana, Ariel, Mulan, Sleeping Beauty, Princess Jasmine, and Belle of Beauty and the Beast. They were all wearing sparkling white gowns and they look lovely even from afar.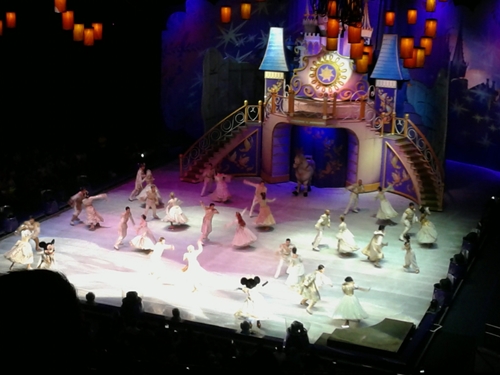 Disney Merchandise
There were a lot of Disney merchandise you can buy for the kids. Ranging from P350-700, you can buy the programme, nice toys and souvenirs. I couldn't resist buying Rapunzel's braided hair and I thought it will be useful in the future since my daughters always join plays in their school.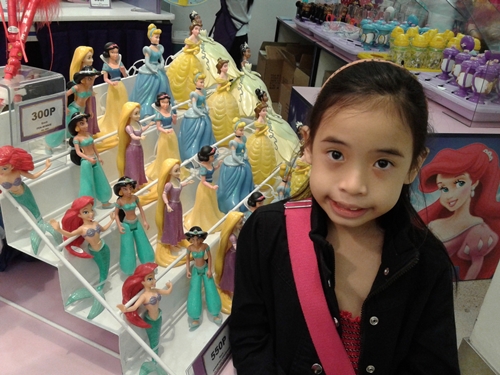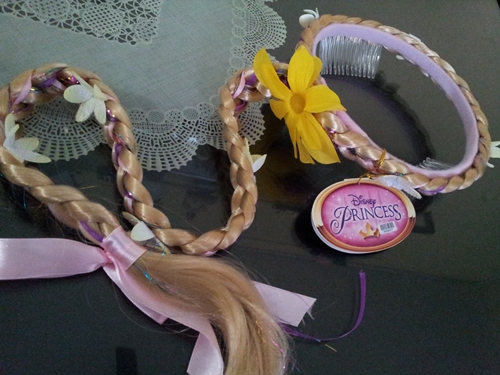 Disney On Ice 2015
They are already promoting next year's Disney On Ice – Magical Ice Festival which will feature who else, Princess Ana and Princess Elsa of Frozen plus other princesses as well – Ariel of The Little Mermaid, Belle of Beauty and the Beast, and Rapunzel! So excited! We better start saving for next year and I know it will be worth the wait.
 Get your tickets for Disney On Ice 2014 online and you can follow Disney On Ice Philippines in FB to get updates on their shows.  The show is running up to January 4, 2015 so you still have lots of chances to see it. Enjoy!