This is not a rant. It's just that I want to be enlightened why in the usual fast food restaurants that we go to, when I want to order a regular iced tea with my meal, they'd say that it will be automatically upsized and I have to pay more.
I know you noticed it but since we usually go to these places, ordering "fast food", we usually just shrug our shoulders and ignore it when the cashier tells us, "Ma'm, your pineapple juice/iced tea will automatically be large."
But shouldn't we have the freedom to choose what we want and if they can't serve it because they don't have an available cup with the regular size, why do we have to pay the additional cost? It has been like this for years and in that span of time, why weren't they able to fix this seemingly unjust system?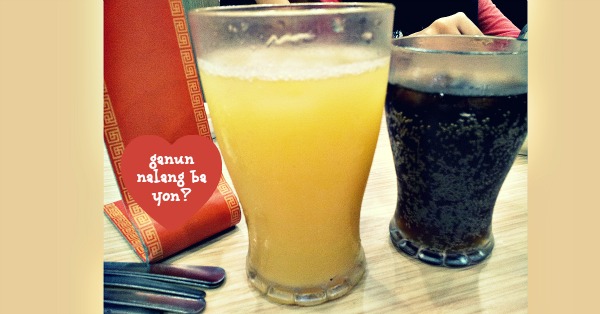 Some may think, "drinks lang yan", "kung ayaw mo magbayad, wag ka umorder." But when you are a mom, you know how hard it is to keep a budget. Spending more for something that you are just forced to because of the circumstances can be just irritating. Most of the time, half of the large pineapple juice or iced tea I order goes to waste. Or sometimes, even if I don't want to order softdrinks, I'd just choose to order them kasi yun lang ang mauubos namin.
I don't know. I didn't actually do any research about this. This week I decided to ask one cashier in Chowking about it, if they were informed about anything in case a customer will ask. She wasn't able to answer anything. It's just the way it is. Ganun na lang ba yun?
If we try to compute the cost, it will still boil down to being "lugi" in the part of the customer. And that shouldn't be the case. We've always patronized these restaurants and I think somehow, we deserve at least an answer about this. If I want to have a regular iced tea with my meal and they can't give me one, I don't have to pay more for the alternatives they give.
What about you? What's your say on this?