If you are and your kids are Disney fans, this is a truly good news for you. The new Disney Mobile smartphones are now available in the Philippines. Made possible by CellPrime, the Disney Mobile devices will be available exclusively through Globe's myStarter postpaid plans beginning at P750 per month.
I'm proud to say that I'm a Disney mom and I won't pass the chance of having this phone. Disney had always made my heart flutter and I guess I passed it to my girls. We've attended so many Disney events such as Disney On Ice Magical Ice Festival , Disney On Ice Dare To Dream, Globe Disney Magic and we've been to Hong Kong Disneyland several times already ! Maybe because for me, dreaming to be like a princess and seeing these wonderful characters are wonderful parts of childhood and I wanted my kids to enjoy them for as long as they can.
CellPrime is a Filipino technology distribution giant and is the Product Development Partner of Disney Mobile handsets in the Philippines. The company is the first to enjoy such a mobile phone partnership with the Disney brand in the market. "We are proud to bring our partnership with Disney further, as they entrust us with the introduction of Disney Mobile, their first mobile phone brand in South East Asia," said Eric Yu CEO of CellPrime Distribution Corp. "Earlier this year, CellPrime launched special edition CloudFones and CloudPads that come with exclusive Disney, Marvel and Star Wars accessories and a collectible range of Disney Mobile accessories that can be used by all brands. Now, the new Disney Mobile smartphones are the latest innovations that we are offering to everyone who loves Disney."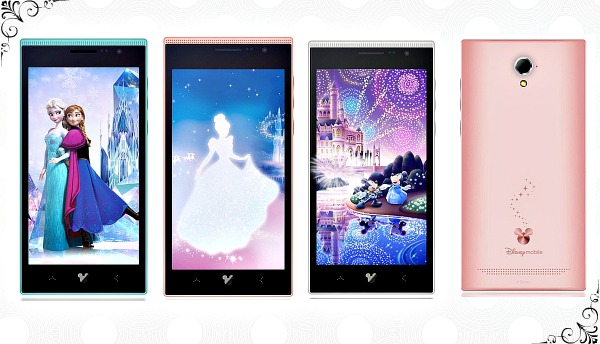 Three Designs To Choose From

Digital natives and tech-savvy Disney fans of all ages have three design themes to choose from: Mickey Mouse, Disney Princess and Frozen. The devices are packed with exclusive Disney custom user interface and content, such as wallpapers, widgets, ringtones. Also included are special Disney apps in tune with the theme of each smartphone, such as Princess Story Theater, Frozen Storybook Deluxe and Castle of Illusion. Other content may also be accessed on the Disney Philippines website. Running on Android Lollipop, each Disney Mobile device has a 1.2 GHz Quad core processor, dual SIM and 4G LTE capabilities, 5" HD IPS screen, 13MP rear camera, and 5MP front camera.
"Going beyond hardware specs like having a great screen and LTE connectivity at a competitive plan from Globe, we are focused on finding ways to deliver the magical world of Disney at the touch of your fingertips. With exclusive content like a custom UI comprised of fun widgets, live wallpapers and Disney songs as ring tones, your Disney Mobile device gives you access to a world of Disney content and services. It truly is a device like no other," added Yu.
 More game-changing innovations to come
The Disney Mobile devices are not the only new products that CellPrime has in store for the Filipino consumers. With its collaborations with numerous globally reputable technology partners such as Intel, Microsoft, Disney, NBA and Spotify, consumers can expect more exciting innovations to be launched by CellPrime this year.
"The launch of Disney Mobile Accessories and Disney Mobile smartphones with Globe is just the beginning of exciting things to come. Stay tuned for a 'first in the world' launch in the coming months," said Yu.
Disney Mobile handsets can now be purchased through Globe stores or online.