A new S&R branch had opened in Novaliches and I was curious of what we can see and shop in there. The 2 supermarket/department store giants were already our neighbors but I've been hearing people talk about S&R often so when we had an available time last week, we finally decided to drop by.
After parking (free parking for shoppers), we headed straight to the entrance where you'll immediately see the Membership area. S&R is a membership shop which means you or any of your companion needs to be a member before you can go inside and shop. There are only 2 types of membership to choose from :the Gold Membership for anyone who doesn't have a business ( should be 18+) and the Business Membership which is for anyone who owns a business OR a Manager of a Licensed business.
You need to have 2 valid IDs with photo before you can apply for a Gold Membership, and fee is P700/year plus P400 for 1 extension card. For Business Membership, fee is P900/year plus P400 for add-on. I tried to find a source which specifically lists out the benefit of having a Business membership card vs the Gold Membership but in my opinion, since S&R gives more discounts for bulk buyers, it may be the main advantage for the business owners. The card will allow you to bring 3 kids and guests but you are the only one who can purchase.
They will take a photo of you for your ID so bring some lipgloss and powder to pucker up.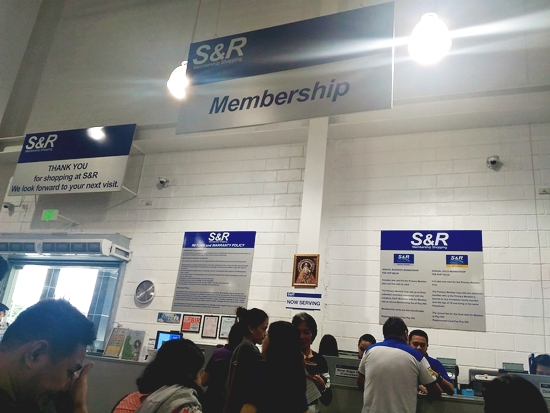 We had a good first time shopping at S&R. The building was huge and it looks like more of a big warehouse building than the usual supermarket. There are pallets and pallets of merchandise, some are still wrapped in plastic, and some are in boxes. Unfortunately, we were only able to take a few photos as we were restricted.
So what did we see in there which I remembered mostly? That's what we do mommies. Unconsciously we make a list in our mind so that when the time comes when we need something, we will know where to get it.
1. Christmas decors — all sorts like christmas lights, huge christmas train, wrappers, christmas tree ornaments, nativity, and minuature christmas houses and christmas villages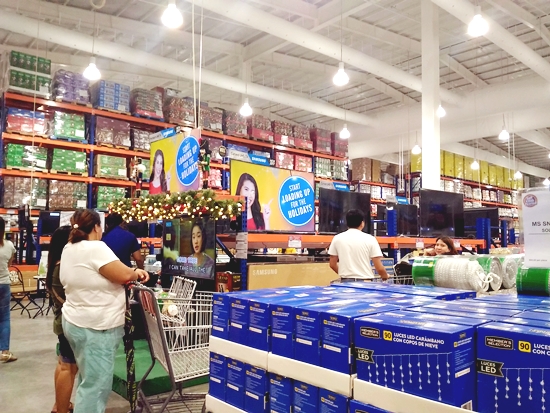 2. Chocolates – lots and lots of chocolates. I didn't have to go to duty free here. You'll find huge packs of assorted chocolates, imported chocolates, and I think the prices are a lot cheaper in here than when you buy them in retail. Tip: they have assorted chocolates wrapped for Halloween!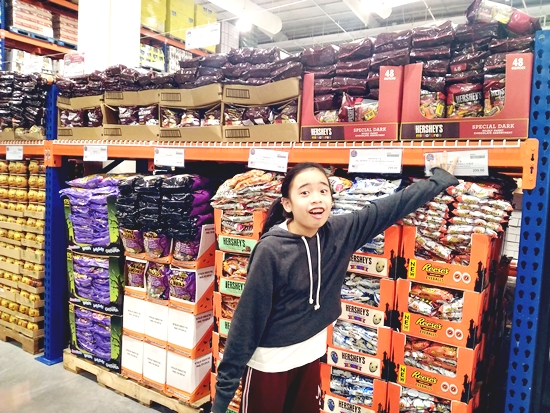 3. Food items – snacks such as biscuits and chips
4. Party items such as the cups – I saw those big red cups which I usually in English movies. There are also big bulks of tissue papers and paper towels, and paper plates of different kinds.
5. Home appliances – I found local brands here and brands which I haven't heard before but they also have appliances which I haven't seen in any other appliance store. There are also baking appliances here. The prices are surprisingly not as steep as I've expected considering they aren't local brands.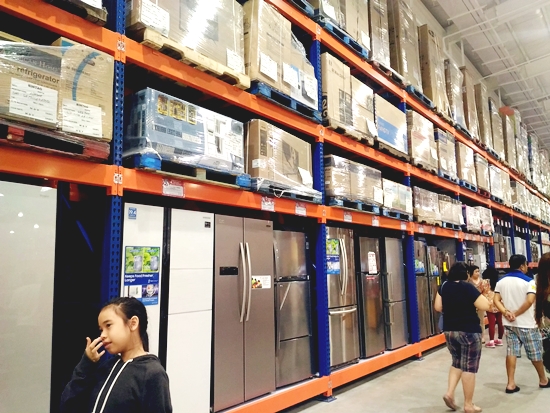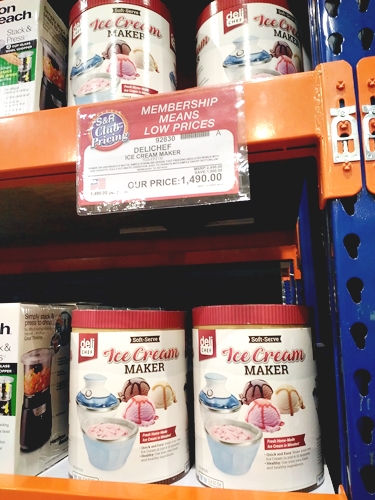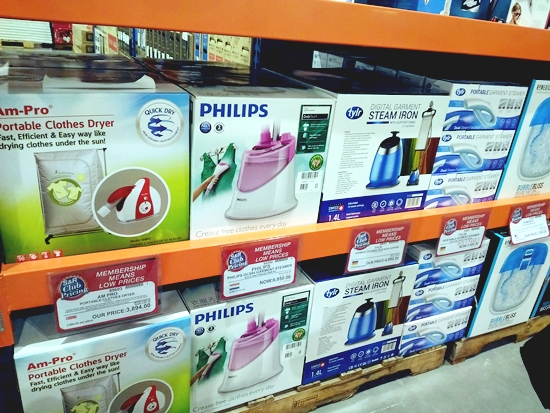 6. Car tires – they have ample stocks but I am not sure if they have tires for other types of vehicles
7. Frozen foods – I was surprised by the amount of frozen foods they got including sea foods. This where you'll see big stocks of clams and assorted kinds of fishes (frozen). They also have frozen meat and poultry. We even saw frozen turkey which are humongous!
8. Baked pastries – They have a table filled with packed muffins, cookies and other kinds of pastries.
9. Baking supplies, different types of milk and cold juices.
10. Cakes for parties and you can have your cake decorated in the store.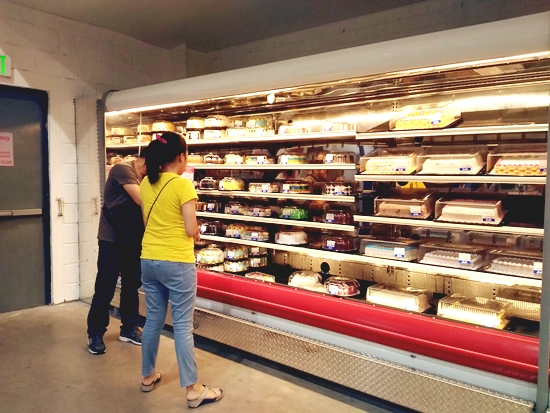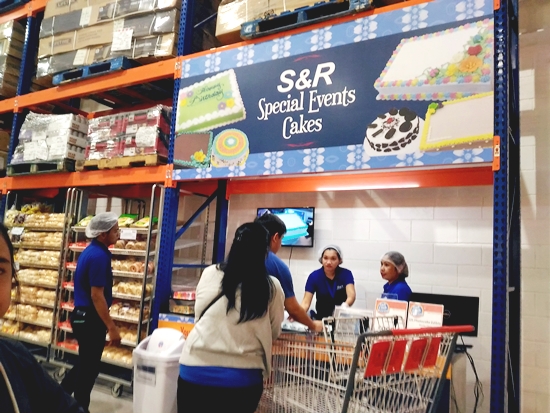 Then the building has its famed S&R food area. We were not able to try the big pizza there since it was packed with people when we were done shopping. Maybe next time.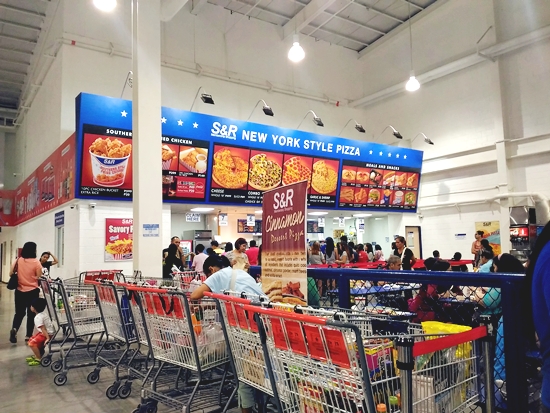 I'll definitely be back to S&R if we have some bulk shopping to do especially on holidays. I think I'll be able to save on those canned chocolates and wafers for the kids' gift giving in school. And I can also save on their frozen meat.  For retail grocery shopping, it will still be better to go in the nearby groceries but if you can invest and have space to store more home items, S&R is a good place to shop. It's also a nice place to see new items from time to time.
S&R Quezon City Address: S&R Commonwealth Commonwealth Ave. cor. Quirino Highway, Brgy. Kaligayahan, Novaliches, Quezon City Philippines Telephone +63(2) 332.0888.
S&R QC Google Map