We've been to Tagaytay twice and we've checked in at the same hotel during those trips. The first was when we attended Mommy Bloggers Philippines Halloween Party at Sky Ranch and recently when my daughter had her graduation retreat in one of the retreat centers in Tagaytay.
Our first stay in Destination Hotel wasn't that good. It was a stormy day and we were tired when we checked in after a day of organizing and hosting the Halloween Party. We checked in a P3,300 a night room in Destination Hotel. It was a 30. sq.m. Superior Room with a King-sized bed and a city view. It was pretty small for the four of us and we had to share a single (king-sized) bed. But it was alright because we like to snuggle with each other and the weather was cold. But of course, who wouldn't love a bigger bed?
We were on a budget and we wanted a place which wasn't too far from where we came from (Sky Ranch), not too far from the road where we can easily drive out back to Manila, a hotel with a pool, and a cheap package with free breakfast. We got all these, except that we did not expect that the storm would be that bad that we can hear the howling storm in our room. We got all scared because it was our first time to be far away from home during a typhoon, and maybe because we stayed in the upper level of the building that the sound of the typhoon became too loud.
The second time we were at the hotel was much better. After my daughter's spiritual retreat in Mariapolis Center, it was almost dark and we already estimated that. Destination Hotel was very accessible and gave us comfort. There was free parking and the staff accommodated us nicely and so we were in our room in no time. Ayala Mall Serin is a 5 minute drive from the hotel so we hit the mall at night time. We ate dinner and did some strolling. Times like these, having my daughters with us, away from home, enjoying the company of each other, I couldn't help feeling how good the life God gave us and how thankful we are to Him. Who wouldn't feel that way if you have 4 cups of creamy ice cream with you from Cold Stone Creamery as we went back to the hotel?
Our room, small as it was, was complete with the basics. The LCD TV, mini ref, microwave, and electric kettle (which I used to cook Lucky Me pancit canton, shhhhhh). What I love in the room is that there are lots of power outlet. We needed this to charge all our gadgets. I guess most hotels these days know that this is an essential feature with most Filipinos having at least one gadget. Downside was there was no wifi inside the room. They have connection only in the lobby.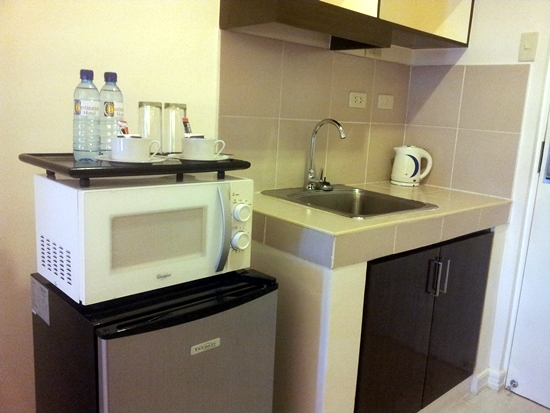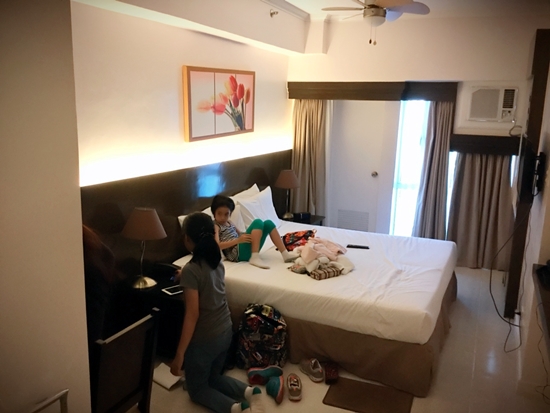 Other features that I noted was that the hot shower functioned well, it was easy to call the staff if you have needs like extra utensils and pillows. Their free breakfast also tasted nice and filling. Then I also loved the partial view that we had. We were on the side of the building but it was already a good place to view Taal Lake. We had this tiny veranda where we can stay and admire the view.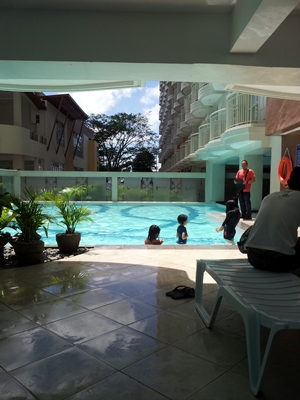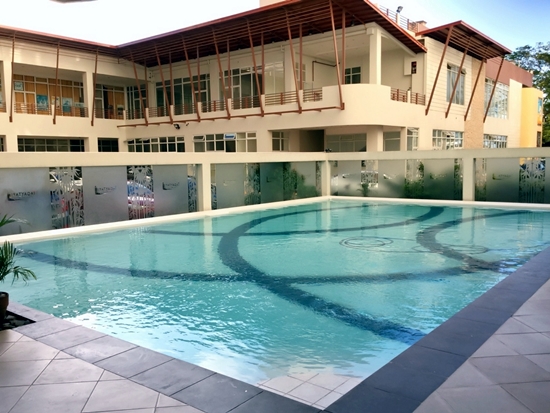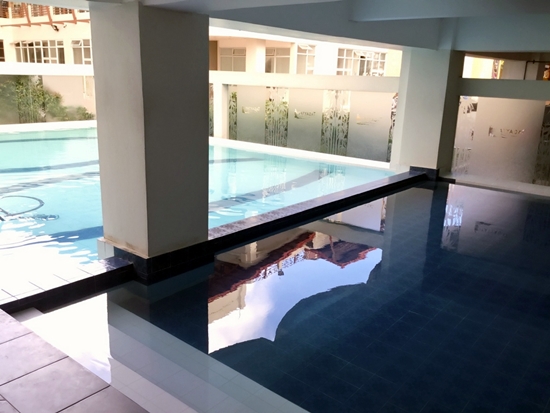 Then of course, there was the pool. It was a mid-sized l-shaped and unheated pool and my kids were excited to try it. But we only allowed them to swim an hour before we checked out after we went to Tagaytay Picnic Grove. I expected that it will be chilling to swim because it was open and I wasn't wrong. I tried dipping my feet in the pool and decided it wasn't for me. But you know kids. There aren't any cold pool for them. A swimming pool is a swimming pool, you know. After 15 minutes of trying hard, they already felt cold. But there were other kids there who I think were there for quite long. Maybe they were tolerant of the temperature. We were not that used to cold outdoor weather so maybe it depends on the swimmers. At least the kids got to try swimming.
Overall, Destination Hotel was a good place to stay in if you are in a budget. It's a modest place which is near the most important parts of Tagaytay City.  Just choose a room size that will suit your family and you are in for a comfortable stay without breaking your wallet. I haven't seen the other rooms, the bigger rooms available in the hotel, so I suggest if you are interested, you can ask from the hotel itself or check more blog reviews about Destination Hotel.
Check Destination Hotel's website here.