This summer 2016, we've tried a new experience with the whole extended family, a day trip in a private pool in Calamba, Laguna. It was our first time to have this kind of escapade and we all wished we stayed a little bit further.
I found Casa Primera by searching for private pools in Laguna in Facebook. Their page was easy to search but we also searched for other options. Finally, after checking the photos of different Facebook pages, I decided to contact Casa Primera for their rates. What I liked initially in Casa Primera is that they connected with me at once, via email and text messages. The staff was friendly in our exchanges and she gave me all the information we needed (open schedules and rates). Apart from the fact that we already liked the pool from the photos, it was a plus that we were able to plan right away because we have all the necessary information.
We chose Casa Primera Villa 1 (the smallest from their units, bigger ones with bigger capacity are Villa 2 and Villa 3). It was just perfect for our family of 17 members. The rate was P10,000 for a day trip. Honestly, we don't know much of the rates in Calamba, Laguna since this was our first time. My brother-in-law said that they had a trip once in Laguna with a private pool for P4,000 day trip rate but the house and amenities were old. I've seen other private pools with rates which are a little bit cheaper (P7k-9K) but the appearance of the houses in the photos and the pool was not that appealing.
Architecture
The terrace or front part of Villa 1 appealed to me very much. I already imagined we were up there and my husband would be taking our photos below. The swimming pool's location was also very kid-friendly because it is right in front of the dining area while the kitchen area is nearby. The video karaoke was also within the vicinity of the dining area. Even the parking area can easily be seen from the rooms above or even when you are dining.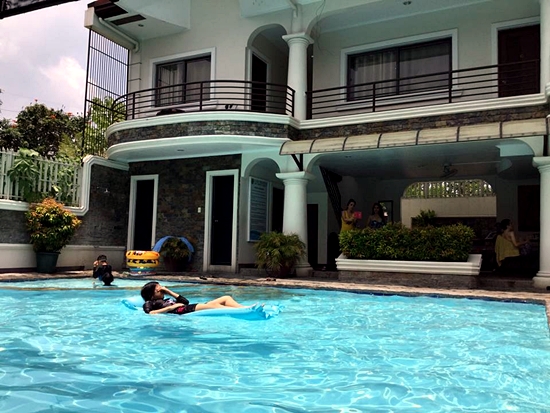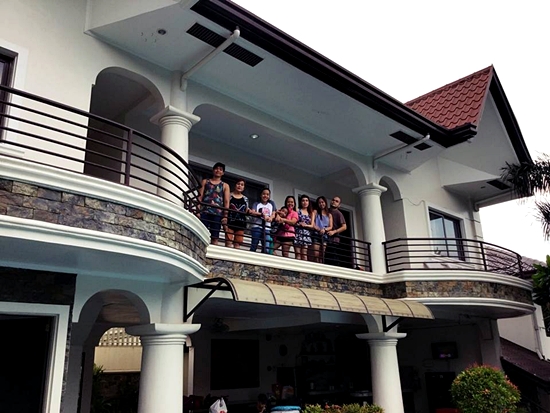 I realized this kind of architecture was very family-friendly, when you can see everything wherever you are. One thing happened when we had just started unpacking and my youngest daughter and her cousin already started their swim. You know how excited we were during those times and we were also happy to let the kids swim without checking or asking the depth of the water. Stupid, right? In less than 10 minutes, we already heard my daughter shouting for help because they had gone to the deeper parts of the water and they were already drowning. Me and my husband immediately jumped in the water to go to them (me still dressed up and my husband too, with his car keys, wallet and cellphone). I imagine what would have happened if the pool was out of sight. Lessons learned but still, I was thankful that the pool was made that way, that it can easily be seen and reached anytime.
Pool Size
The pool's size is average, with the kiddie pool just adjacent to the adult pool. But we thought it was ok since there are only 3 kids in the family, the rest were adults. Water was lukewarm ( remember, hot spring) and this is what I like in pools, when you can just swim without thinking of the temperature anytime of day. Fortunately, the sun was friendly that day. It was hot around 10am-1pm but bearable because there's a shaded part of the pool where we stayed. Adult pool's depth is 4-6ft while kiddie pool is 3ft.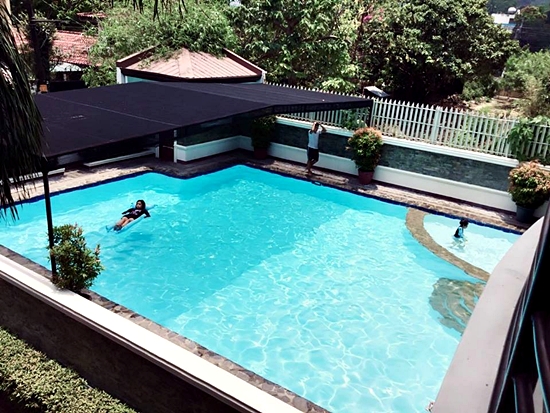 Dining Area
A long table just enough for the family to eat altogether is in the middle of the dining area. It's made of lacquered wood, was clean and looks sturdy and new. A separate circular table made of glass good for four people is nearby.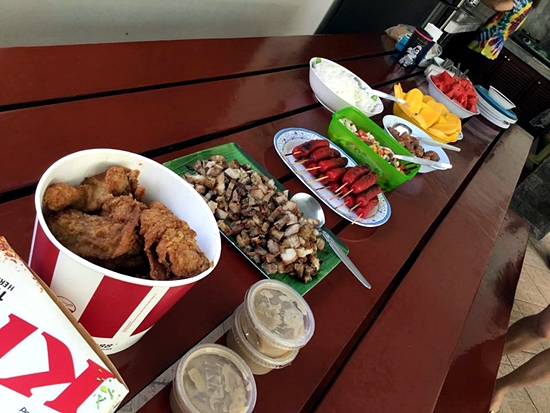 Kitchen
As far as I remember, they have complete amenities which were just as we needed. Refrigerator, gas stove, water dispenser (1 gallon is free and if you need more, you can request from the caretaker). I was not in charge of the kitchen area but if you need to see the lists of their kitchen accessories, they were all listed on the contract you'll be getting via email after you deposited your downpayment.
Grilling area was clean and we had our "inihaw na baboy" just in time for lunch.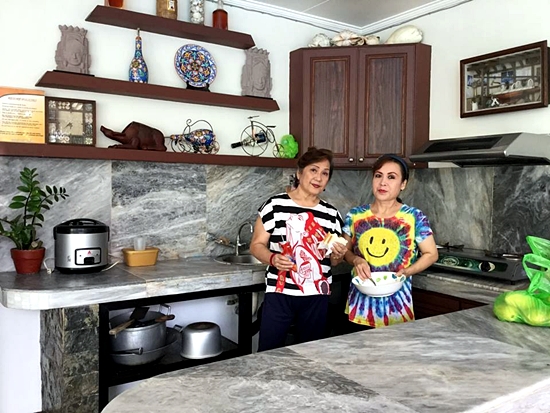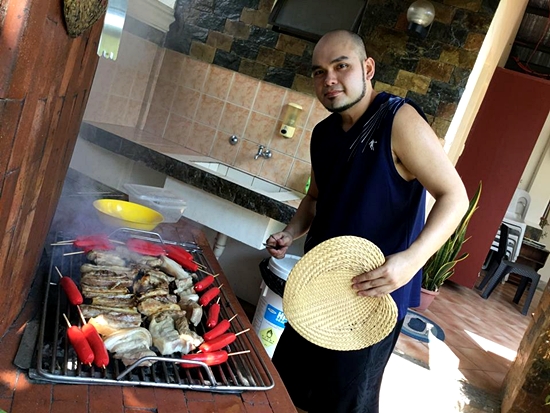 Videoke
This, we enjoyed so much. With a family who are composed mainly of singers (for pleasure), a good videoke system is a must. Well, Casa Primera exceeded our expectations. Except for one of the microphones which lost its sound from time to time, the videoke sound system was crisp, clear and loud and it was of good model (TV was a Samsung LED, smaller than a 32 inch). We all waited for a chance to sing and pour our hearts out and the videoke gave it to us. The videoke was easy to manipulate and the songs were updated even with modern songs.
Garden
There's a mini garden area with several playground equipment (a mini playhouse, a catterpillar and plastic rocking horses). My little niece was happy with the play area and it was a nice spot to take our family photos.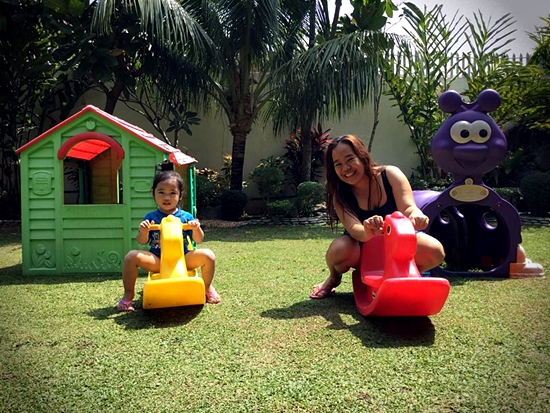 Billiards Area
Near the garden is an area to play billiards. We hardly noticed this place because it was a bit secluded but we imagined that it will be a perfect area to stay during overnight stays. We noticed several light fixtures which will make the place look romantic at night.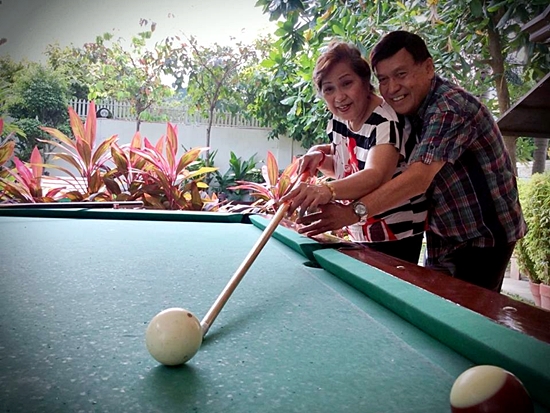 Bedrooms
The 3 bedrooms which were part of the package we got were just enough for us, actually, were not able to use the beds at all since it was day trip. But all three rooms had good airconditioning, 2 rooms had their own bathrooms, and plenty of beds to lie down, if we had wanted to. One room is downstairs which was where my parent in laws stayed. Seniors will always a appreciate a room in lower ground.
Parking Area
Only 2 vehicles will be able to park inside the resort but you can park your vehicle right in front of the gate.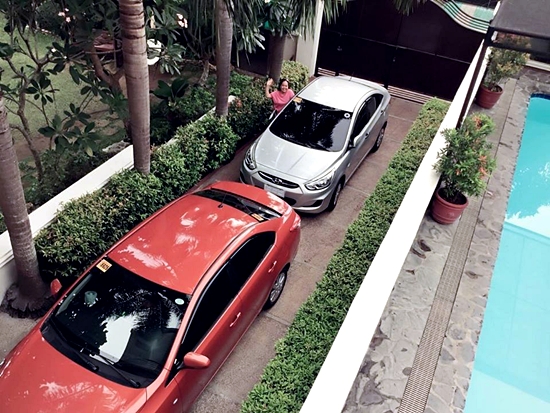 Location
Casa Primera is very easy to find because it was near from the national highway (as my husband told me). You will get the complete instruction and map to the location from the Casa Primera staff. A fruit stand sells fresh fruits in the corner of the street where the resort is located.
Last time I checked in Casa Primera's Facebook page, this private pool is multi-awarded. We are just glad that their owner is keen in maintaining the quality of their resorts. I wish that they will stay to be the same for a long time, and that they won't increase their price that much over time.
Did you enjoy my post? Have a happy vacation!