How much do you know about head lice or kuto? Test yourself by reading this list below of some facts about head lice which you may not be aware of.
Head lice infestation or pediculosis is most common for girls 4-12 years old.
Boys can have lice too.
Head lice can live or thrive even on clean hair and scalp.
Children who have short hair can still have lice if not treated. That is because lice live and feed on scalp. However, having long hair means having more space for head lice to lay their eggs.
Head louse (single kuto is louse, more than 1 is lice) doesn't multiply because of heat or exposure to sunlight.
Head lice don't jump nor fly because they don't have wings and their legs are not powerful enough to jump.
Head lice can be spread by close contact or sharing personal effects such as combs, hats, beddings, towels or clothings.
Head lice can't infect animals.
Having head lice doesn't mean that one has poor hygiene.
Adult louse can live in a person's head for 30 days but when it falls from the head, it can only survive 3-4 days when it doesn't feed on blood.
Severe head lice cases may lead to worse cases such as skin infection or hearing loss due to infected ears.
One adult louse can lay 10 eggs a day so multiply that to 30, 1 kuto will breed 300 more kuto if left untreated.
Did you get everything right? Well, I didn't know all of these facts initially. Some of these facts I've heard for the first time when I joined the Kilusang Kontra Kuto campaign of Licealiz at Enlisted Men's Signal Village Elem School, Ballecer St., Taguig. With my fellow moms from Mommy Bloggers Philippines, we've learned from the short talk by a licensed dermatologist how prevalent pediculosis is, the things parents should know about head lice, and how to properly manage and treat it using Licealiz Head Lice treatment shampoo.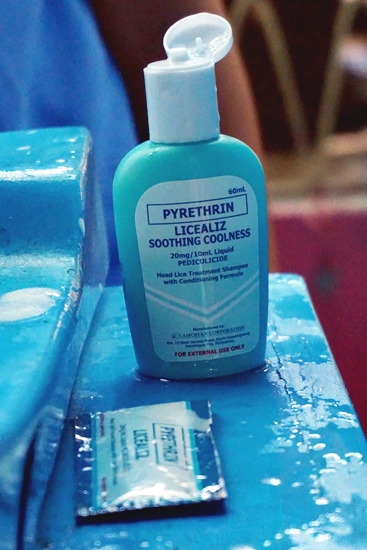 Don't Underestimate The Power Of Kuto
It's difficult to have kuto and most of us, those who had head lice and even those who hadn't, know that. It's irritating because scalp can be very itchy. When the scalp is infected, you might even experience hair fall. My daughter who had head lice even had the skin on her neck infected that I had to bring her to a dermatologist. Fortunately, the topical ointment prescribed had healed her skin.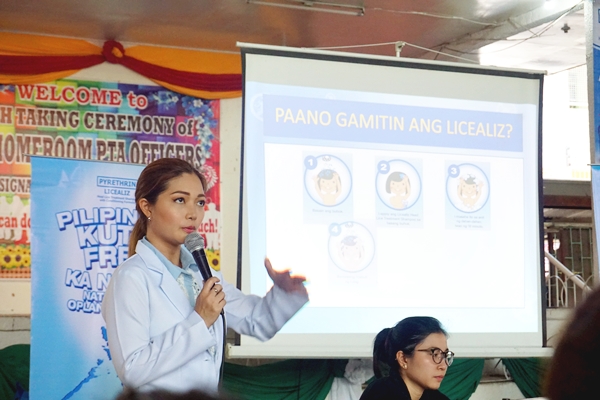 Despite the irritability and hassle of having head lice, why is the infestation very common? I can think of only two. Either we underestimate head lice thinking that it will be solved on its own or we just don't know how to properly treat it. Both of these issues root from lack of awareness.
Lamoiyan Corporation, the makers of Licealiz Head Lice Treatment Shampoo, aims to fight head lice infestation by addressing the issues I've mentioned above by conducting a Nationwide Oplan Alis Kuto as part of Kilusang Kontra Kuto (KKK). The caravan will be traveling to different schools and barangays all over the country to hold shampooing programs and lectures for students and parents. Now on its second year and in partnership with DepED, UP College of Public Health and Mommy Bloggers Philippines, KKK aims to raise awareness about lice infestation issues and teach the parents and children how to treat it through proper shampooing using LiceAliz. Last year, the campaign reached 30 communities and over 10,000 children and parents in Luzon Visayas and Mindanao.
I was lucky to be one who witnessed their first activation this year. I saw how eager the students were to start the treatment when they were shampooed in the school. Who wouldn't want to have a fresher, cleaner hair and scalp that is itch-free? After the activation, the kids were all smiling and looking fresh.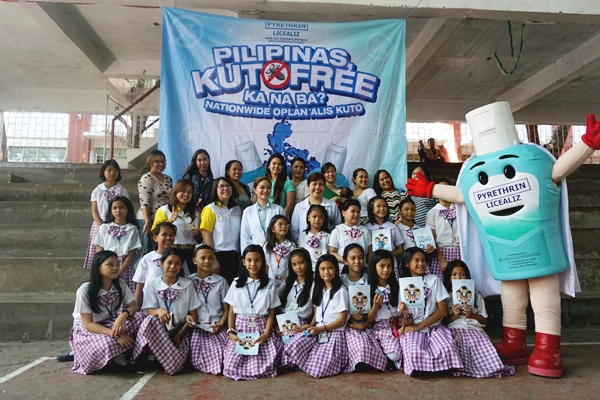 Licealiz is an affordable and effective anti-headlice shampoo and the kids should use it only twice a week for treatment and once a week for prevention. It's available in 2 types : the one with conditioning formula and another with the soothing coolness. The shampoo smells nice on hair and the hair doesn't get that stiff after using unlike when we use other brands. My daughters and I use Licealiz at least once a week to prevent reoccurence and because the shampoo is safe to use naman.
Join Kilusang Kontra-Kuto and you can do it starting from your home. For more information on head lice prevention and treatment, visit Licealiz's Facebook page at www.facebook.com/licealiz.
Comment and get a chance to win these goodies!
Do your kids or anyone in your family have kuto? Tell me why it's difficult for you or your kids to have kuto and comment below. 1 lucky commenter will get to win this gift pack from Licealiz. Winner will receive a message through mail or FB on October 9. Goodluck!