Some of the moms I know, when they want to be pampered in salons, they go to malls and find a place there. As for me, because of my hectic schedule as a work at home mom, I usually have a friend stylist go to our place and do my hair and sometimes my nails.
Both of these choices have their advantages and disadvantages and either of them will work for me. Going in a salon inside the mall will be fine with me when I want to have my hair done before I go home. Or maybe when I just want to go to the mall, forget everything from home, and just relax.
Having your hair done at home is another option. This suits me because as the hair stylist rebonds my hair, I can still work on my computer and my work schedule is not disrupted. The cons are that I pay for the electricity for hair appliances being used. I also have to provide the water and shampoo plus of course, I don't have hair sink unlike in the salons.
But I found out recently another good option to pamper myself. Its perfect because it is near our home and the place is very clean and smells divine. The salon is family owned and the manager is the pretty and young Ms. Julie Ann Benamera. The salon opened just this March and one of their premium offerings is the Brazilian Blowout.
Nouvelle Salon's Brazilian Blow Out
The Brazilian Blow Out is a type of hair treatment which is very good for treated hair like mine. "Treated" means you have undergone permanent styling like hair rebonding, relaxing or hair color treatments. For aging women like me, because I am already growing white hair (uban) and managing my hair takes so much time, rebonding and coloring are already necessities for me. But these treatments make my hair weak, dry and frizzy.
Nouvelle Salon offers the genuine type of Brazilian Blowout, as in, they use the branded Brazilian Blowout products. When I tried this treatment in their salon, my hair strands seemed to thicken, my hair color more enhanced, and it was so soft even after I shampoo it.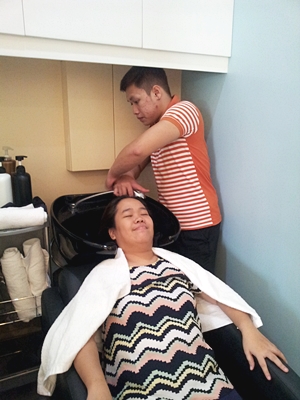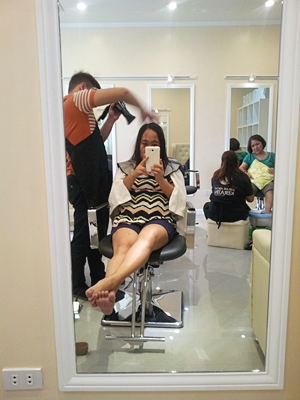 Complete Pampering Services
Nouvelle Salon is not only for hair cut, styling and treatments. I was actually surprised when I saw how complete their services are. You can have all your needed personal pampering in their salon, from hair to toes. And the prices are very competitive compared to the salon inside the malls. They also have ongoing promos for group visits.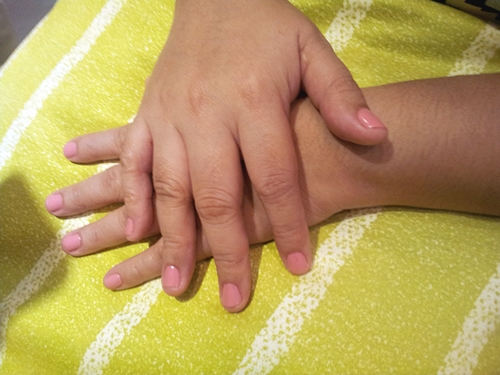 Added Value Services
I recommend Nouvelle not only because of their services but for the added value that they give:
1. Awesome French-themed place
2. Good air-conditioning
3. Free coffee or juice
4. Friendly staff – *This is very important to me. I like to chikka but not too much. There are salons where the staff are either too friendly to the point that they already invade your privacy or sometimes, suplada and can't even smile to me. Ate Josie, the one who did the mani pedi and Mark who gave the Brazilian Blow Out were just perfect.
5. Security – They have a security guard outside the salon.
6. Parking – They offer free parking outside though limited. So I suggest if you will need to park, make sure you'll make an appointment.
7. Free Wifi so I can surf or watch my favorite TVC soap opera while having made up
8. Comfortable seats
You can find Nouvelle Salon in front of Kia Mahindra in Regalado Highway, Quezon City.
Facebook Page : https://www.facebook.com/nouvellesalonph/