After a week or so abstaining from meat, I've finally had the chance to cook some of the pork sausages I got from TFH Meat. I know we were in for a nice, meaty treat when I got my samples days ago because the packaging was quite neat. For me, the packaging says a lot about the products inside them. Most often than not, when brands effort so much in how they wrap and present their products, especially when these are food items, the more they will make the products inside them very much worth it.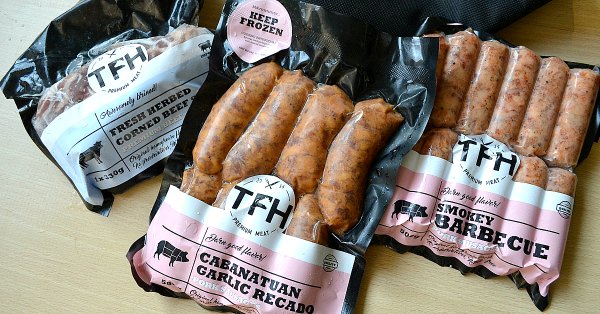 TFH Meat pork sausages and corned beef were nicely wrapped with a thick plastic and were brought to me in a black thermal bag. I was able to keep the meat products for a long time in my freezer and as I expected it, the sausages were still fresh. I've cooked the Cabanatuan Garlic Recado pork sausages and they were cooked perfectly in just a few minutes. I like our sausages well done so you'll see how brown they were on the plate. The garlic flavor pops out the moment you taste the slightly toasted skin and the meat tastes perfectly when dipped in plain vinegar. You will see the oil drippings on the plate below and when I look at them, it makes me crave again for these sausages.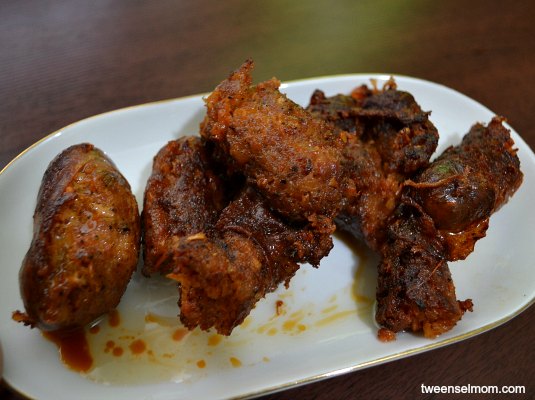 The TFH Smokey Barbecue pork sausages were another story. I was not able to take photos the last time because I was so hungry then I forgot to take photos. I'll make sure to update this post when I cook the remaining stocks I have in my freezer. But I clearly remember the taste and the flavor because of the simple reason that they made an impact to me. You know how easy it is to remember good things, right? These sausages were sweet and they took only a few minutes to cook, even faster than the Garlic Recado variant.  They were more like peppery to me than smoky but nevertheless perfect with eggs cooked sunny-side up. I couldn't remember how fatty or lean the meat were but the way I cook the sausages were that they were glistening brown on the outside and juicy on the inside.
I wasn't able to cook the Fresh Herbed Corned Beef but I am excited to cook a corned beef hash with onions and potatoes. I'm looking forward to the herbed flavor I'll discover when I cook it. I'll make sure to update this blog, promise. Better yet, why not try TFH meat on your own and discover their delicious flavors over breakfast or any time of the day you may be craving for delicious meaty flavors.
TFH Premium Meat as the brand owners mentioned, were being made without preservatives, artificial flavoring, nitrites nor food coloring. They are home-grown, artisanal and premium products which are offered at affordable prices.
TFH Premium Meat are available at Landers Superstore and on Instagram and Facebook @tfhmeat. You can also call (02)8809044 or email tfhmeat@gmail.com for orders.