I love eating caimitos. Aside from they are delicious, they bring back memories of childhood to me. The times when me and my cousins were free to roam around the alleys of our compound in Balintawak. I remember we used to throw stones to a caimito tree full of ripe caimitos. The fruits easily fell down to our waiting hands and we just open them and eat them using our bare hands. Now, I am passing the love for this fruit to my kids.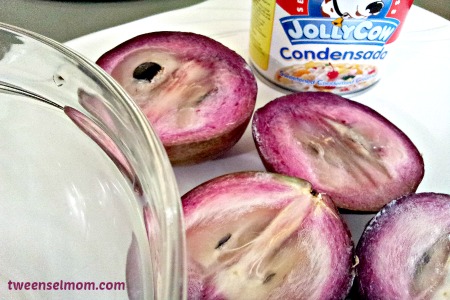 Caimitos are abundant during summer and last time I bought 5 pieces in the market, I paid only P20.00. Dessert will be easy with just a number of medium sized caimitos. Scrape the meat and include the seeds (you must teach your kids how to eat the meat without swallowing the seeds. if you can't teach them, just serve them the meat and the thick sauce of the dessert).
Pour in some condensed milk and then put in ice cubes. Let the ice cubes melt into the fruit and milk and start to eat. I use Jolly Cow condensed milk because I find it thicker and tastier that you only need some few spoons to make your delectable dessert.
Health Benefits of Eating Caimito
We are so fortunate that star apples are abundant in the Philippines, specifically during summer. As per Wikipedia, the star apple plant is almost like the coconut tree wherein most of its plant parts are usable:
1. Leaves – Infusions of the leaves have been used against diabetes and articular rheumatism.
2. Fruits – Fruits have anti-oxidant properties.
3. Bark – The bark is considered a tonic and stimulant, and a bark decoction is used as an antitussive.
How about you? What are your favorite summer fruits?
Disclaimer : This is a personal blog post. I am not a nutritionist or a medical professional and the medical information in this post were all derived from Wikipedia.