It was our 2nd time to watch in IMAX because the ticket price here is quite steep. Our first time was when we watched The Hobbit and I remembered how astounded we were seeing those beautiful scenes and depths. You know how the mines in The Hobbit films were and those green landscapes. When we've heard about Star Wars movie coming in theaters, I knew we will be visiting IMAX for the 2nd time.
We got our tickets from Ensogo. It costed P400 per ticket (from the original P450). Getting deal tickets online was easy on this site. We just had to call SM Cinema that we had tickets from Ensogo and reserve the seats we wanted after checking the schedule from SM Cinema website. The cinema customer service were accommodating even though we had to cancel twice because of the changes in schedule brought by cancellation of classes.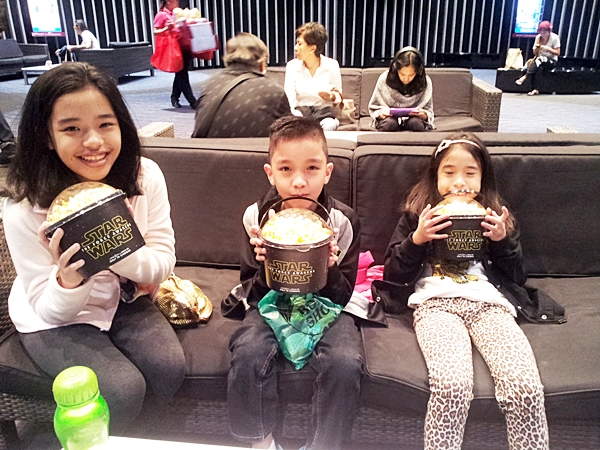 On the day of the screening, we got there exactly 10AM, opening of the mall, and there was already a line build up. The problem with deal ticket holders was that my husband had to go to Cinema 7 where there was an E-Plus station. Our viewing time was 10:30 AM so my husband had a very short time to do this. When he got to E-Plus the officer there had to verify in the office about the tickets. He had to tell the officer that he couldn't wait longer because he had kids with him and a senior citizen waiting. The officer accompanied him to IMAX to let us all in.
We were not able to see the opening scenes of the movie and quite disappointed of course. But as soon as we've seen the scenes with our 3D glasses, all of us were silenced, hahahah. We were seated at the 2nd highest seats but you'll feel you just can grab the objects from the screen. They really popped out. The Star Destroyer ship scene felt like it would be crushing me with the tip of the ship pointed outwards. Just like when we watched The Hobbit, the scenes where there are depths were very realistic. My two favorites were those in the sands and when Rey was in that huge ship where she was scavenging ( hope my memory serves me well) and the scene was like we were looking at how deep the hole was.
The kids told us that they enjoyed those snow scenes and they felt they can just catch the snowflakes. They enjoyed the movie so much we had no trouble telling them to be quiet. They were glued to the screen.
The IMAX seats were comfortable and they were not too high for smaller kids. It was also cold in there but not too much like in some other cinemas that I feel uncomfortable of freezing. My father in law didn't even budge even if he didn't have a jacket. My husband previously told me that he felt the seats were too much close to each other but I thought they were ok for me. Maybe it will be an issue if you will be sitting right next to a bigger stranger because you might be touching your elbows together.
The tip is just to reserve your tickets beforehand and make sure that you get the seats you wanted. With a popular movie like Star Wars, the chances of having the cinema filled up is very high so if you don't want to be uncomfortable with your seat mates, better look at the seating reservation first or ignore who you'll be watching with.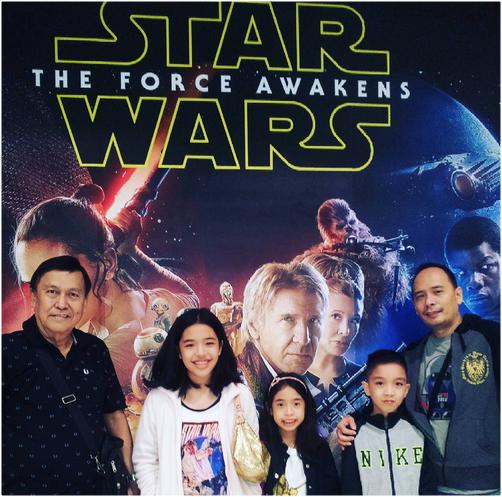 As much as possible, don't get tickets as early as 10:30 AM just like we did. 30 minutes is just too short for an allowance especially if you are watching with kids and seniors. They will be asking for snacks and you'll be lining up for the next 10 to 15 minutes. Then there will be someone who would want to go to the loo, etcetera. The Star Wars merchandise items are pretty costly too. The popcorn with the popcorn bowl costed me P99. The Star Wars tumbler (which has a cover with a toy on top) costs P199 each so I didn't buy them. The kids were already happy with their popcorn and we already ate before watching.
In fairness, we really enjoyed our Star Wars IMAX 3D Experience. The tickets were worth it and even though we are still planning to watch in 2D, I was grateful that we were able to enjoy it on 3D. IMAX is for special movies and Star Wars will forever be special for us. With the turn of the events in the new Star Wars trilogy, we were looking so much forward how the lead character will blossom through the years. Daisy Ridley was very pretty and tough and she was perfect for the role. I know my daughters will be inspired by her. Looking forward to Star Wars Episode VIII !