Every cook knows that cooking takes time and patience. And when you try to hasten your cooking, you end up having a disaster. Either your dish turns out to be tasteless or raw. But there's something we can do to avoid the rush and it's to cut the time in preparing the ingredients.
That's where Tupperware Speedy Chopper helps me a lot. It's what I use to cut the time in chopping my ingredients and have them ready before I cook. Onions, bell peppers, mushrooms, these are some of my usual ingredients and it only takes me seconds to chop them all. But this kitchen tool is so much powerful than that.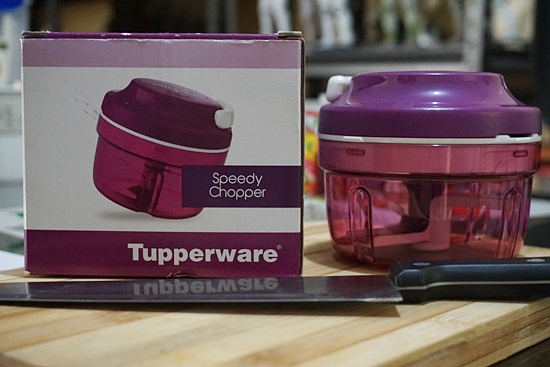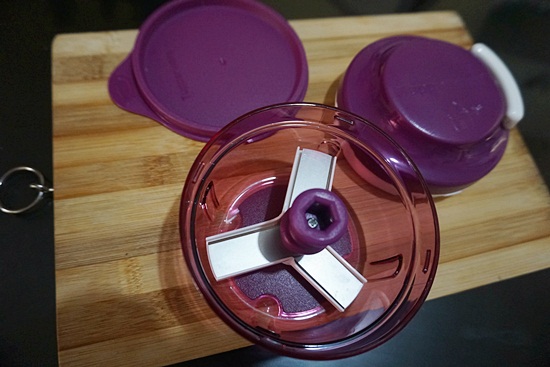 The Speedy Chopper is also ideal for cutting leafy vegetables and herbs like basil, parsley, oregano and other fresh herbs. You can also use it to prepare dips, sauces and purees.
Inside the packaging box is a recipe leaflet which teaches how you can make green pesto, veggie spread, chicken salad dressing, and guess what, butter cream icing!
What I love in this kitchen tool is that it doesn't require a battery or electricity to work. It's also easy to wash and store. Don't mention the color! I immediately liked it when I saw it's color. It's not violet nor purple but it's called rhubarb. If you will be looking for a gift, this one will be perfect for its size and it is already enclosed in a box.
You can get the Speedy Chopper from your favorite Tupperware dealer or you can check it from Tupperware website!