Will you believe that these glorious chocolate truffles are made of US Potatoes?
Yes! More than the thought that these delicious treats are made of nutritious potatoes, you will be more amazed to know that these are easy and fun to make, plus the ingredients are very affordable.
The secret ingredient? Dehydrated US Potatoes which I used to make mashed potatoes which in turn was the base of this decadent truffle recipe.
First, let me tell you some more about dehydrated US Potatoes. I discovered them when I did some shopping at All About Baking in Mindanao Ave, QC. I initially bought them as I wish to try baking bread using potato flour. It turned out that they also have dehydrated US potatoes or what they call potato flakes and I found out that they are being used to make mashed potatoes.
I immediately tried to make a bowl of mashed potatoes at home and voila! In a matter of minutes, I have a hot, creamy and fluffy mashed potatoes ready to serve.
Here's how to make mashed potatoes Dehydrated US Potatoes
Mix 1 cup of US Potato Flakes with 1 cup of water
Microwave in less than 1 minute
Pour ½ cup cold fresh milk ( you can add more if you want your mashed potato more of the "soupy" type
Season with salt/pepper (optional)
When you buy U.S. high-quality dehydrated potatoes, you are getting real potatoes, just with the water removed. U.S. dehydrated potato products deliver all the flavor, nutrition and versatility of potatoes in a more convenient package. If you want to learn more about US dehydrated potatoes, you can do some readings at: http://www.www.potatoesusa-philippines.com/potato-products/dehydrated-potatoes
More than mashed potatoes, US. Dehydrated potatoes can also be used to make soups, salads, breads, main dishes and desserts!
And one dessert that I am sharing is the US Potatoes Chocolate Truffles
You will need:
1 cup mashed cold, mashed potatoes made with dehydrated US potatoes
1 cup baking chocolates (melted and cooled) – I prefer to use dark chocolates
Different types of toppings ( in this recipe I used some left-overs from the pantry like powdered graham, crushed oreo, powdered sugar, candy sprinkles, chocolate sprinkles, and cocoa powder )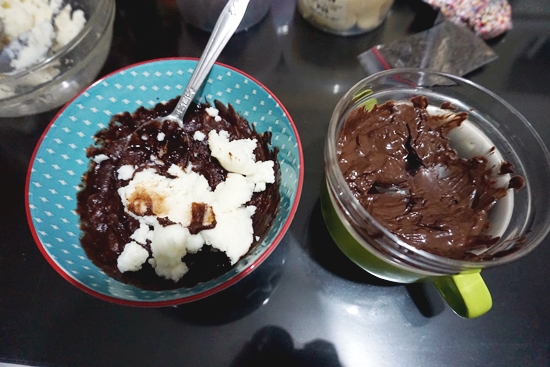 How to prepare:
Mix the melted chocolate with the mashed potatoes.
Get a spoonful and roll it in your palm to make small to medium sized balls.
Roll the chocolate truffle on toppings.
Kids will love the topping part!
Let the truffles cool in the refrigerator before eating.
You can pack your truffles in small boxes for gift giving just like what I did. This will be perfect for all occasions. It so happened that tomorrow it will be Teacher's Day celebration in my daughters' schools and they requested me to make some more for their teachers.
For the stores which carry US potatoes:
Frozen potatoes
Cherry Foodarama
S&R
SM Supermarkets
Rustan's
Robinson's
Dehydrated potatoes
All About Baking
The Baker's Company
Best Value Factory Outlet
Gourdo's
S&R
Fresh Potatoes
Rustan's
SM
Robinsons
Get more information about potato nutrition, recipes, upcoming events, and general potato facts from Potatoes USA – Philippines Facebook Page here.