I've known about Hotel Jen since last New Year when I was hunting for a new hotel to try where we can stay for New Year's eve. I was already attracted with the rooms published in Agoda. Unfortunately, we had to choose a different hotel since Jen was already fully booked.A week before Mother's Day this year, imagine how happy I was because my wish to stay at Hotel Jen was granted. And so I am sharing with you how Hotel Jen looks like and how their food and amenities fared to us.
Windows By The Bay Lounge
Located on the 19th floor of the building, the lounge has plush seats and tables where you can lazily stay while sipping wine or cocktail drinks. The panoramic view of the busy streets of Manila in front of CCP and then Manila Bay was both entertaining and relaxing for me. If there will be reasons why I'd be going back to Hotel Jen, one of them will be because of this lounge.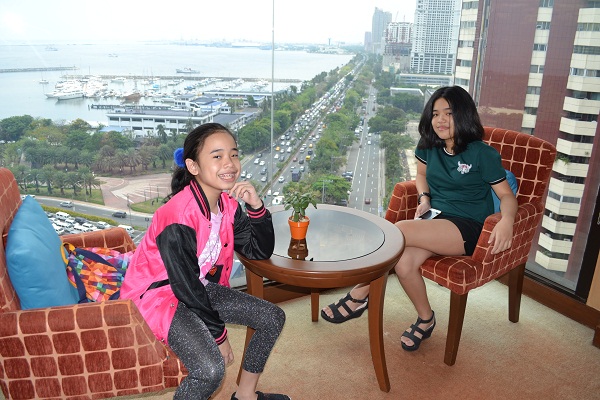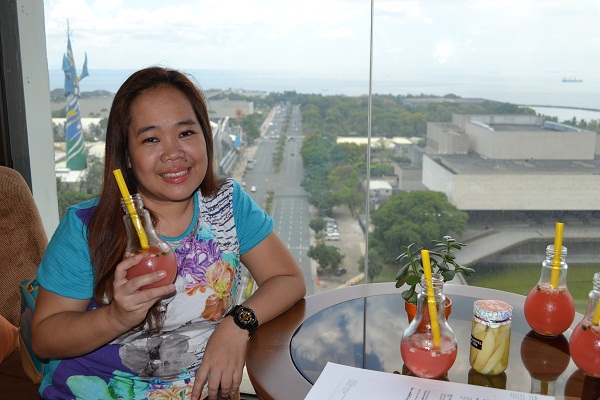 Parking
We were told before going to the hotel that we have an allotted parking but I think that the space they have is the parking space in front of the building. They also have some space beside the building but I am not very sure how they are being reserved. We had to ask the guard in charge to let us in because my husband doesn't want to park in an uncovered area.
Security
I felt secure in our room and the staffs were all welcoming. The key cards were the same as in other hotels where you are only allowed to access specific floors.
Room and Beds
The executive room we stayed in was divided into 2: the bedroom and the living room. These were both comfortably carpeted.  It's a 72sqm room with lots of cabinets and storage spaces. How I wish I have this kind of space at home.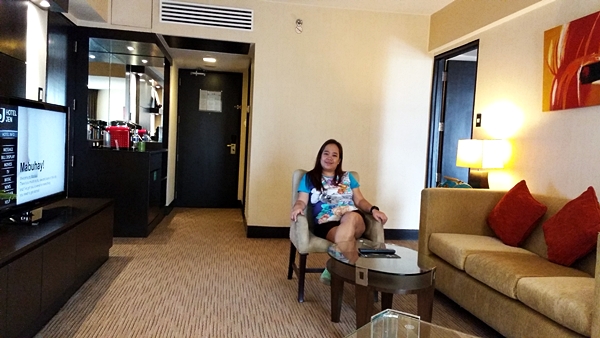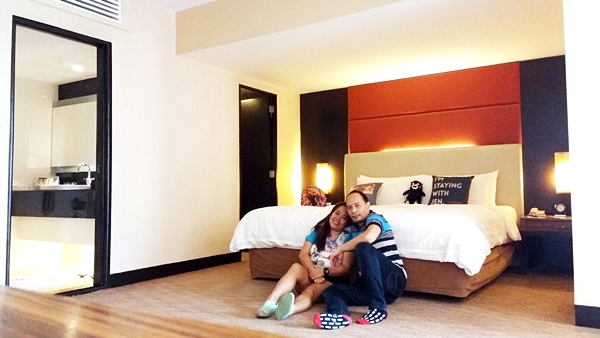 Coffee Maker
Available heating pot and a coffee machine with pods! We don't have one at home so we had to call a staff to teach us how to make our coffee. There were lots of powdered tea, brewed and instant coffee inside the shelf. A mini ref filled with soda, some cans of beer and fresh fruits is hidden in the cabinet.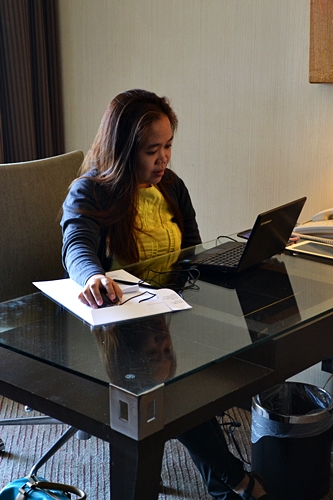 Massage
First time to have a massage in a hotel room and it was superb. You can call for an in-room 1-hour massage for P600. Call in advance because according to the masseuse there are only 2 of them so they are kind of busy.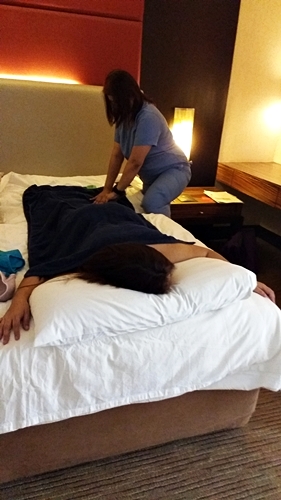 Working Space
The glass office desk and chair were just perfect for me that I was able to work for a few hours before dinner. From time to time, I swivel my chair to take a look at the busy street below through the huge window glass.
Electronics
2 huge LED TV in the living room and bedroom. You can also watch HD movies for a fee.
Wifi
Unlimited Wifi and connection were fast. Unlike in other hotels where the users are limited, in Hotel Jen, everyone's free to use.
Bathroom
There's a toilet/washroom in the living room and one big toilet/bathroom with bathtub inside the bedroom. I loved it that the shower area is separated from the bathtub. And the shower area is separated from the washing area, so the bathroom didn't need to be wet all over the place after someone took a shower.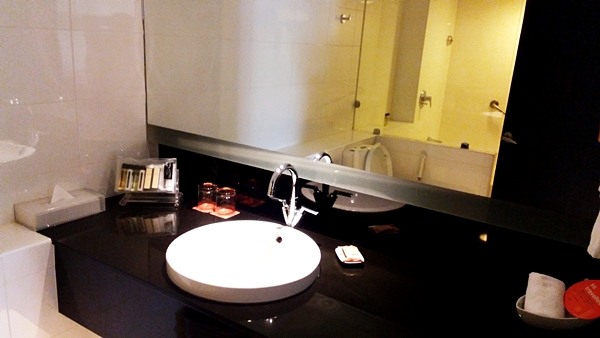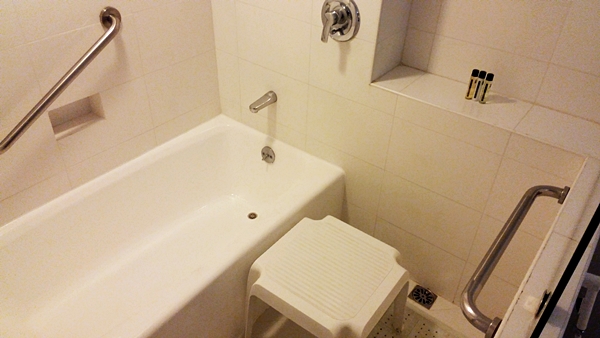 Pool
Love their deep blue pool. Shallowest part is 4ft deep and floor deepens up to 6 feet. They have a separate kiddie pool for small kids. There are ample cots and umbrellas around the pool and in each cot, there's a ready cooler filled with ice and bottled water. How sweet, right? When we used the pool, the staff even offered us complimentary fresh and cold watermelon slices. Ang sarap!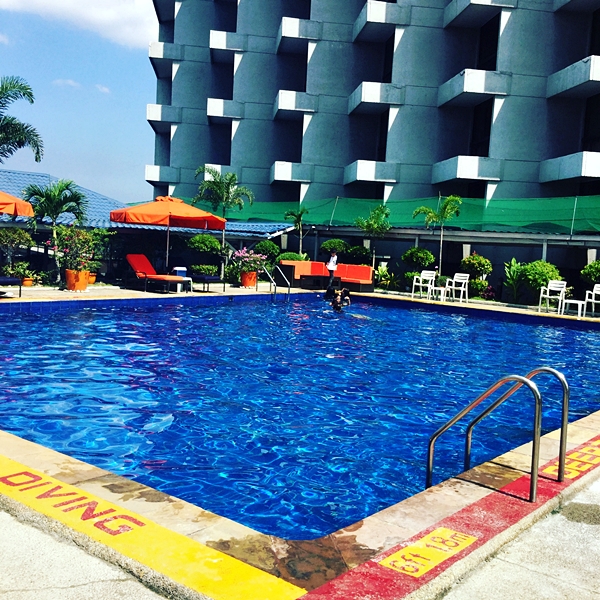 Food
Hotel Jen offers three venues where you can enjoy food at its best. The breakfast buffet is served at the lounge, buffet lunch at Latitude ( read my Latitude blog post review), and dinner at Kitsho Japanese Buffet Restaurant and Sake Bar (see my TripAdvisor Review of Kitsho here).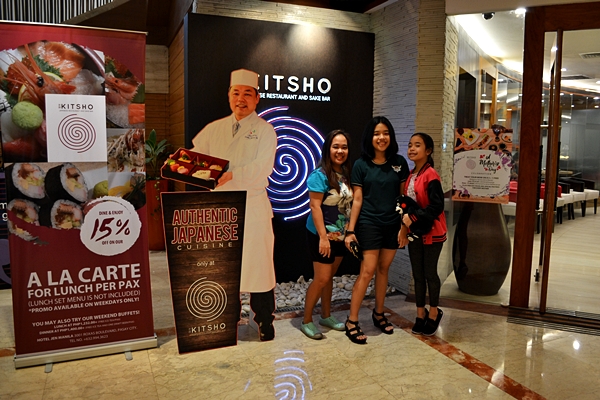 Location
Hotel Jen is conveniently located near Star City and just across the street from CCP.  A Minute Stop convenience store is located in a nearby block. Mall of Asia is a 5-10 minute drive if you will take a cab but Hotel Jen has a scheduled shuttle service to and fro MOA.
Sweet Gestures
Hotel Jen can make your most special day still a little bit more exceptional. Like for Mother's Day, they had a festive short themed dinner for us moms beside the pool. Their seafood was amazing ( I love the seafood chowder!), omg lobster, shrimp, chicken and BBQ. When we returned to our room, a bouquet of white roses, KitKat Rubies and a tiny chocolate LV bag and our beautiful family photo which was taken when we arrived at the hotel that morning. These gestures were so sweet and memorable and they just showed how Hotel Jen make real effort to make their guests' experience memorable.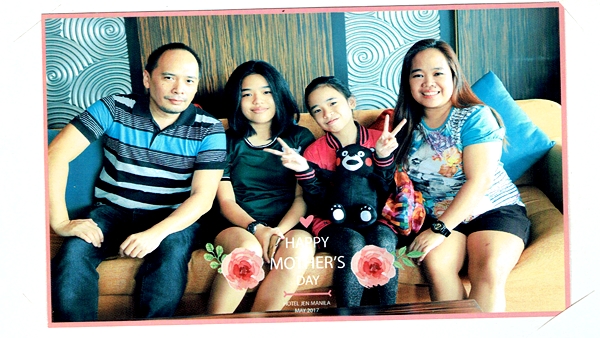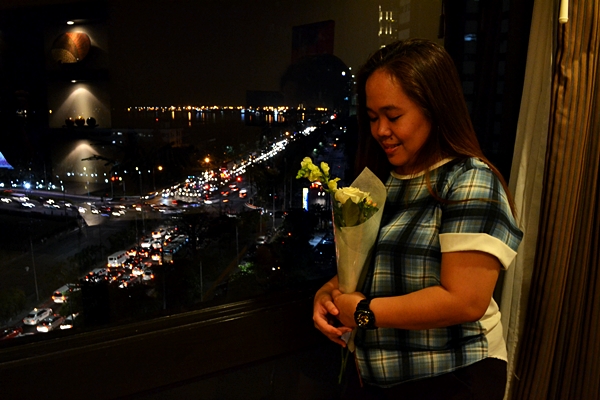 For all these, I'm giving 2 thumbs up to Hotel Jen, for such a wonderful place to stay, for their good food, warm staff and the view which I will long to see again and again. Whenever you want to #leaveboringbehind, think of Hotel Jen.
For inquiries and reservations, you may call (02) 795-8888 or (0917) 806-2017
You can also email hjm@hoteljen.com or visit website www.hoteljen.com/manila and @hoteljenmanila on Facebook, IG, and Twitter