Try this crumbly-on-the-outside-goeey-on-the-inside with a surprise Hershey's Kisses cookie recipe for your little cookie monsters at home. Perfect with a cold, glass of milk or warm, coffee for adults.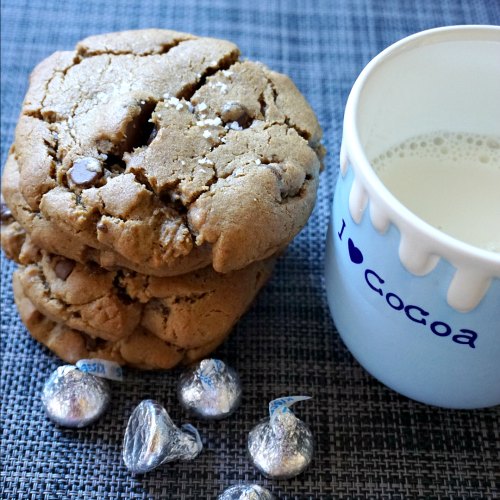 Ingredients:
2 1/4 cups all-purpose flour
1 1/4 tsp baking soda ( take note, teaspoon, not tablespoon, a little bit of difference will make you taste the baking soda)
1/4 tsp salt
2 sticks melted unsalted butter
1 1/4 cups brown sugar
1/4 cup white sugar
2 large eggs
1 1/2 tsp vanilla syrup
1 tablespoon Greek yogurt
2 cups chocolate chips
Hershey's kisses (up to you what variant you'd like to use)
rock salt for sprinkle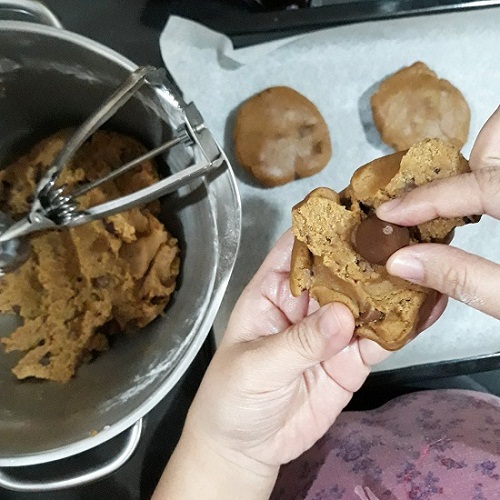 Procedure:
Preheat oven to 350F
Combine dry ingredients flour, baking soda and salt and then set aside.
Combine butter, brown and white sugar using a mixer.
Mix in the egg, vanilla and yogurt.
Add the dry ingredients and then the chocolate chips.
When dough is good (no sticking on the sides of the mixer), form your cookie and put in Hershey's Kisses inside. Up to you how many surprises you want to tuck inside your cookie.
Bake cookies until brown.
Sprinkle with a little rock salt before cooling. Serve.
Yield: 1 dozen huge cookies or 20 medium sized cookies
Hope you love this recipe! Feel free to send me a note when you've tasted it.
For more easy to bake recipes, check these.