If you haven't discovered how oyster sauce can transform a simple dish like a stir-fried kangkong and tofu to an oysterrific dish, the easiest way will be to open a P5 peso sachet of Ajinomoto's Sarsaya Oyster Sauce. I've just tasted it and recognized the difference with other oyster sauce I've tried. The oyster flavor is heightened without overpowering the other ingredients and it's not sweet unlike other brands.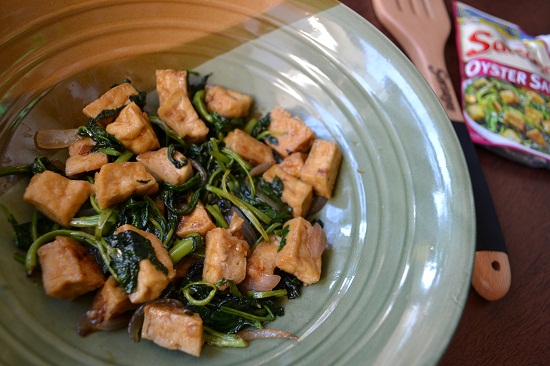 I got this quick recipe from Ajinomoto as they launched the cute celebrity Coco Martin as the endorser of the new Sarsaya Oyster Sauce. I learned he has a degree in Hotel and Restaurant Management which means he must know something about food and food preparation. The moms who attended must have had their hearts on the ground. Even I find the matinee idol very charming, palaging naka smile.
So, here's the recipe. I'm sure you'll find it very easy and your family will enjoy the dish. My husband had eaten everything in a flash when I tried cooking this dish. Very affordable and yet, nutritious. The kids will also love the hint of sweetness in it. With or without rice, this dish will be a hit on your table.
StirFried Kangkong And Tofu With Oyster Sauce
Ingredients
1/4 cup cooking oil
1 square tokwa (add more if preferred) sliced into cubes
2 cloves garlic, sliced (sometimes I prefer to use the dried minced garlic)
1 bundle of kangkong, separate leaves and stalks
1 30g pack of Ajinomoto Sarsaya Oyster Sauce
Instructions
Fry tofu or tokwa until slightly brown. Set aside.
Saute garlic and onion on the same oil.
Add kangkong stalks for about 30 seconds and then add leaves and tokwa.
Stir fry more and then add Sarsaya Oyster Sauce.
Stir fry a little bit more and then serve hot.
http://tweenselmom.com/2017/03/01/stirfried-kangkong-tofu-made-special-ajinomoto-sarsaya-oyster-sauce/